And we have some awesome resources to help you today!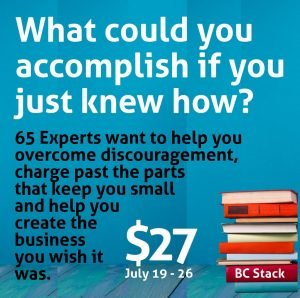 Today more people are worried about not having enough money for retirement, and having to go out and get a part time or full time job. Another option is to start a business at home.
Chances are that when you are finally ready to retire, you don't feel like continuing to get up, get dressed, leave your house, drive somewhere to work for somebody else, and then put in those hours and come home exhausted.
Does it sound a whole lot better to stay at home, in your pajamas if you choose, building a new income source of your own that can continue to earn money for you – a business of your own that you can grow at your own speed.
Affiliate marketing online is fairly easy to learn how to do. If you don't have a product or service or something that you want to sell, you can become an affiliate for any number of products or services.
Did you know that many retail stores have affiliate programs online. Think Best Buy, Macy's, Target, Walmart, Amazon and so many more. If you like health products there are affiliate programs. If you like sports, even specific sportsman activities like fishing, there are affiliate programs. Whatever your passion or interest, you can find a way to be an affiliate.
And that means you can earn a portion of every sale that is made through your affiliate link.
Of course there are things to learn and set up to get started, and there is endless support and resources for that. What you really need is an interest and your commitment.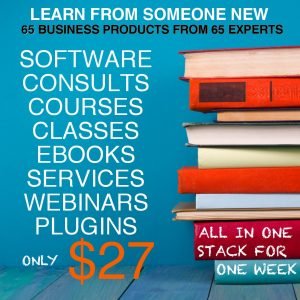 You can choose what type of product or service you would want to represent. It's best if you choose a niche or market that you like because you will be writing about it, talking about it, finding and posting or making images or videos about it. It is a lot more fun if you like the subject.
If you have a product or service, you simply use the same resources as affiliate marketing online and plug it in to your business.
The key is to find out what to do and then to DO IT!
If there is one thing that will set up a new online business owner for failure, is failing to launch and failing to work.
If you do these 2 things – start your business and work your business – everything is in your favor to succeed.
You see, a couple of things that cause people to struggle are 1) never getting started, and 2) keeping busy with reading or studying or checking email, but not doing the tasks that earn you the income.
What's great about affiliate marketing is that you don't have to 'sell'.  You can simply talk about the benefits of the product and/or service you have, and let the people who can benefit decide to buy.
At some point your business will start to earn some of its income passively, so that you really can go out and play while earning money for products or services purchased online when you were away from your computer.
There are all kinds of training and tools and resources available to get you started if you are a complete novice, or to help you succeed if you are currently trying this way of earning extra income but spinning your wheels.
This week there is a bundle of products for sale that includes 65 different ways to help you market your affiliate business or any type of product or service online. Each year Dan and Rachel from Blogging Concentrated put this package together, seeking out 65 teachers, trainers or coaches who want to reach out to new people like you and me.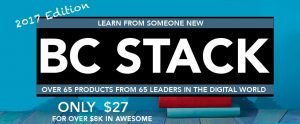 We benefit because the price to purchase this affiliate marketing online stack of products, tools and services is so low – at just $27.00.
The contributors benefit because they are introduced to all kinds of new people that can use their programs.
Blogging Concentrated benefits because they also increase their followers, and they share such awesome marketing knowledge (including their podcast) year round that you really do want to be plugged into their content online.
So it is truly a Win-Win-Win (benefits benefits benefits for all).
The only catch is that the BC Stack is only on sale for one week each year. You have to order by July 26, 2017 or wait until next year.
If you want to have extra income during retirement (or even enough income to get you through the month) to accomplish all of the things on your bucket list without having to worry about money, consider an affiliate marketing online – and start today!
If you think BC Stack can help you, go there quick and get the package of 65 products, worth about $9,000.
Definitely take a look at the page and see what all is there:  BC Stack.
Some of what is inside BC Stack this year:
Affiliate Marketing
Amazon Marketing
Website Traffic Trainings
Social Media Marketing
Blogging and WordPress
Ready Made Marketing Plans
Creating Images and Content
Coaching Planner
30 minute 1-on-1 session with Tony Robbins' son Jairek Robbins
30 minute 1-on-1 session with Author Vernon
Get your logo (or other image) animated
Get Coaching, Publicity and Media Kit Forms
Get your blog reviewed
Get your podcast edited
Get ready made marketing plans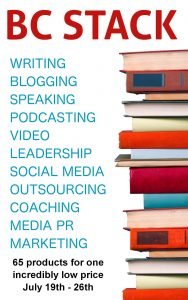 Save
Save
Save
Save