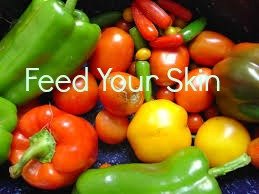 Your skin is the largest organ in your body and all natural skin care has many nutrition benefits for your skin. One of the jobs your skin does is to protect your body from bacteria. How healthy your skin is depends on nutrition you put in your body as well as what you put on your skin.
What you eat plays a part in how your look. One of the first places that nutritional imbalance shows up is on your face. When you eat a healthy diet, and take food supplements, many skin problems can benefit.
Nutrition and Your Skin
Your skin is largely made up of protein that is used to build and maintain healthy cells and tissues.
Vitamins and minerals are needed to feed your skin the same way they feed the rest of your body and keep you healthy.
Antioxidant help your skin deal with elements called free radicals that come from toxins and pollution in the environment, cigarette smoke, alcohol and certain medications.
Vitamins and antioxidants can absorb free radicals but are lost in the process and must be constantly replenished.
All Natural Skin Care
Skin ages fast when cells are destroyed by free radicals. You need to constantly replenish your body's supply of antioxidants through your diet in order to fight this damage. Nutrients applied directly to the skin help as well.
Vitamin A  –  in the safest form, beta carotene, helps reduce sebum production, decreasing the incidence of acne.
Vitamin C  –  strengthens capillary walls and works with protein to form collagen, the body's connective tissue.
Vitamin E  –  assists in the oxygenation of tissues
Selenium  –  works synergistically with vitamin E and functions in the enzyme glutathione peroxidase. This enzyme is critical in preventing the inflammation of acne.
We talk all the time about our company's commitment to scientific research in regard to food supplements.  It's what sets us apart from the competition and makes us the #1 Natural Nutrition Company in the United States.
We expect no less from our skin care scientific team.  Your skin needs the same nutrition that your body needs to be healthy! From skin damage to skin aging to helping our skin look great everyday, a healthy skin care program is essential.
The same nutrients you take to protect your health and slow down the aging process also play a vital role in the health and appearance of your skin.
Want to look younger?
Reverse the visible signs of aging?
Recapture that firm, clear, glowing and unlined look of your youth?
And of course have protection against the visible signs of aging that come from both time and the environment?
Applying Vitamin C, Vitamin E and Vitamin A directly to your skin each night in an easily absorbable formulation can make a huge difference in the way your skin looks and feels. Click here to learn more.
Vital Repair+ includes Vitamin C, Vitamin E, Vitamin A, Pro-vitamin B5 (improves skin's suppleness and elasticity, Grape Seed Extract blocks enzymes that break down collagen, Beta Glucan to soothe environmental irritation and Superoxide Dismutase and to neutralize surface damage  –  all from the unique science and research of this brand.
Click the link below to learn more about Enfuselle and the brand behind it, and to order. Or contact us directly at vicki@antiagingbydesign.com to personally discuss.
Follow Us on Social Media