Need Some Help With Your Anti-Aging Plan?
Thanks for visiting us here at AntiAgingByDesign.com.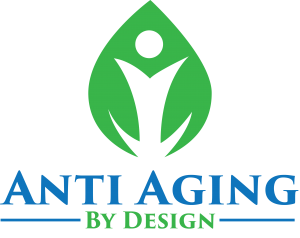 Our goal is to live a healthy lifestyle (as much as we can) in order to live younger longer.
What does that mean?
To us, that means feeling well every day, feeling energized to stay active, and avoiding the illnesses, diseases, aches and pains that seem to go along with aging.
We talk about eating healthy, exercise, getting rest, balancing any stress you have, and lots of other healthy topics that promote longevity.
However, there is an abundance of that type of information online and you probably read lots of it, or can find it easily enough.
So, on this site, we like to talk about all-natural, food-based nutrition supplements and how they can help improve your life — to us, these are the 'easy little things' we can do every day to stay healthy, feel younger and look younger!
The reasons we feel so strongly about taking our anti-aging supplements every day include:
Only the rare person truly gets all of the nutrients they need from their food
Most of us don't eat  optimally every day to get that quality nutrition that builds healthy cells
We now have (long term) proof that this type of food-based, all natural supplements do make us healthier
Maybe our most important reason is that we've been taking the same brand (Shaklee supplements) for almost 35 years, and we have always enjoyed fantastic results.
We feel great and have abundant energy which makes us feel younger.
Do you like learning about how nutrients get absorbed, the best way to consume vitamins vs the best way to consume herbs or other supplements, new science discoveries, research being done around supplements and better health in general?
If so, we talk about these kinds of things that we learn from the brand we use, including the scientists, doctors, people in the field representing Shaklee, and long time customers who share results.
The most important takeaway when you talk about supplements is that brands are NOT created equal.
Here is an article that will explain about the differences and why you might want to experience the Shaklee difference for yourself:
One last thing to note:  All Shaklee products are 100% guaranteed to work for you. They always have been, and yet the guarantee is rarely used because you get the results!
Today I was listening to a Shaklee corporate leader talking on a podcast. She was discussing how Shaklee has always been about helping people build health and wealth. The health part we talk a lot about here but the wealth part not enough.
Dr. Shaklee chose the business model he did for product distribution because he wanted to help families live better lives. Sharing products person to person gives anyone who desires a chance to build a business helping other people feel better.
You can't buy Shaklee products in a store – that's not the business model Dr. Shaklee chose back in 1956. Since that time you can buy Shaklee products online, but your purchase will still be directed to a personal distributor if you aren't already connected to one.
We think it's awesome to realize that today this business model of social marketing is more relevant than back in 1956. Young people today are looking for things like financial freedom, flexible schedules, multiple streams of income, and building something of their own for the future. That is exactly what Shaklee has always been about.
Everyone who knew him states that Dr. Shaklee was a man way ahead of his time – not only in nutrition but think about the business side as well. The Shaklee business model is just now hitting its stride after 60 years! That is respect (for Dr. Shaklee) right?!!
If you would like to learn more about the business side of Shaklee, we would love to talk to you or point you in the direction to learn more. Just visit this link – and there is a Contact form on the site or use the Contact Us form on this site.
Save
Save
Save
Save
Save
Save