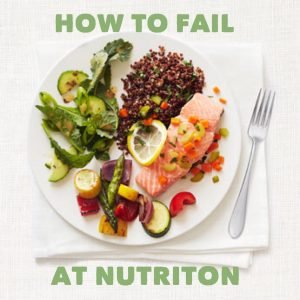 Let's talk about the fail, not primarily the nutrition. In regard to failing it could mean digestive problems, weight problems, or any number of health problems in many areas such as skin, concentration, pain, diabetes, allergies and more. I believe there are a couple of things that come before you can be successful in turning the fail around. Two things I think stand out, if (pretty much) anyone is failing at their nutrition.
This article is not about specific nutrition information or even about the changes you need to make with your nutrition. It's more about the choices that you have the power to make. (Not to get off topic but you can plug these concepts in to any area of your life where you may be struggling or failing.)
The first consideration is that today we have access to information like never before. So if you have a problem or a struggle, you can choose to research solutions. However research alone is not going to solve the issue. That brings us to the second consideration which is choosing commitment to change. You have to want to change and commit to that change.
The body is amazing in that it can respond amazingly to changes that you choose to make. I believe it can heal itself in many areas as well. The key is that you have desire to make the changes and that you stay committed to them.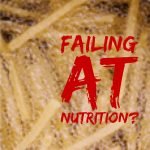 You can fail at your nutrition if:

1)  You don't choose to and seek the solution, and

2)  You don't act on the solution.
How To Find Nutrition Help:
How can you find help if you are failing at nutrition? My favorite place to start is Google (or your favorite search engine). When you find good resource sites, bookmark them or make a folder or document where you save them. Then, when you are in research mode again you can do your searches directly on the sites where you found previous
information that worked for you.
Beware the information you find on the internet. There is great information and there is junk. Pay attention to the website and who is behind it and make sure they are reputable. Again, save those sites for future use.
Of course if you have a trusted nutrition source, start there. Also subscribe to some health news sites or be a regular reader of the health sections in your favorite news website. You will find information that is new or new to you. For example the day I am writing this article I saw news that the FDA has (finally) decided to remove products from store shelves if they contain harmful antibacterial soap ingredients. You might miss news like this that can be harmful to your health.
If you regularly search for information about any kind of subject, you have your favorite way to search and I encourage you to do that in regard to your nutrition and your health. Some helpful searches start with the following examples and then you plug in your problem or desired solution after these words: "Best ways to", "Top 10" (or Top Ways, Tips, etc. with any number in front or no number), "How To", or simply type in your problem or solution and see what information you get.
Last, we are here to help in any way that we can. You can contact us through the website and if we don't know the answer to your questions, we have a team of about 300 (doctors, scientists, researchers) that we can contact with your question.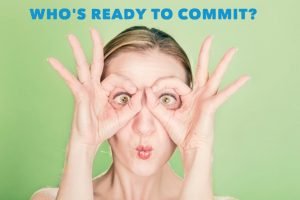 How To Commit To Nutrition Help
When you find what you need to do to get your desired result, how are you going to make the changes you need to make? How are you going to stay committed to those changes?
I've always heard it takes 21 days to form a new habit. I've never seriously tested this, but I do realize it takes time. But even more than time, I believe it takes commitment. And in addition to commitment being required to make change, it is needed to realize success.
This second part may require some research as well, and there is so much help available in whatever form you choose. Many of us have purchased books (could be sitting on your bookshelf right now) that can help us with self improvement, and in this context motivation for commitment. There are daily emails you can subscribe to or apps that will push out a notification to you daily. Or, maybe you have someone who you can talk with and be an accountability partner to you.
Ignoring the commitment part is a big set up for fail. You can have every good intention to do something, and it is hard enough to change in the first place. If you're not 100% committed to the change, it's going to be even more of a struggle. Whether you need a book to read, someone to talk with, or someone or something reminding you to keep going, be sure to include this part. And if you need help with this step, contact us to help you get started.
Succeeding at nutrition is not all about the nutrition itself. It's about you. It's about desire. It's about research. It's about choices. It's about commitment.
In conclusion, if you are failing at nutrition, consider your choices. Are you finding ways to improve your nutrition? Are you acting on those choices? Those two things can take a fail to a win!
You're invited to get your FREE HealthPrint assessment by clicking below. Shaklee designed this to help you get on a better path to optimal health. It is free for you, with absolutely no obligaion. HealthPrint consists of just 20 questions that can change your life.
Get your HealthPrint now at: MyHealthyPrint.com
Save
Save
Save