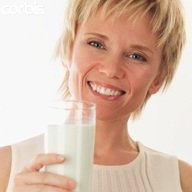 Breast health is a topic all women should get educated about and be concerned about in their everyday life. Even though October is Breast Cancer Awareness Month, it's important to talk about breast health throughout the year. There is a relationship with nutrition as well – and March is Natural Nutrition Month.
There are specific reasons, associated with breast health, why you should eat healthy and get to a healthy weight. You will learn about that in the podcast below.
Foods Healthy for Your Breasts
Good nutrition includes lots of vegetables, fruits and whole grains and you will learn which are most beneficial to your breasts.  Antioxidant nutrients protect your cells from getting cancer.
Soy is criticized in regard to breast health, but there is widespread confusion and questionable information being spread about the subject. There is an explanation, including related scientific research, to help you understand the nutrition value of soy in the audio presentation.
Vitamin D and Omega-3 fatty acids are two more important nutrients for your breasts.
Today we have an interesting and comprehensive discussion about breast health. Make a cup of tea, sit back and enjoy. I always learn a lot from these discussions and hope that you will too.
[audio:http://BestFatAndInchLoss.com/Breast_Health.mp3|titles=Breast Health]
Here are some health science bulletins for you to read when you have a few minutes and want to learn more about soy and cancer prevention:
(Just click on the title in each block.)
Feel free to contact me if you are looking for additional information about breast health, soy or nutrition.