My favorite way to contribute to our environment today, and every day, is to clean without putting more chemicals into it.
Living with less chemicals benefits our health and also benefits the environment where chemicals can get into the air and water supplies.
Whether you are doing simple cleaning jobs, dirtier jobs, or even disinfecting, there are safer alternatives to chemicals including bleach.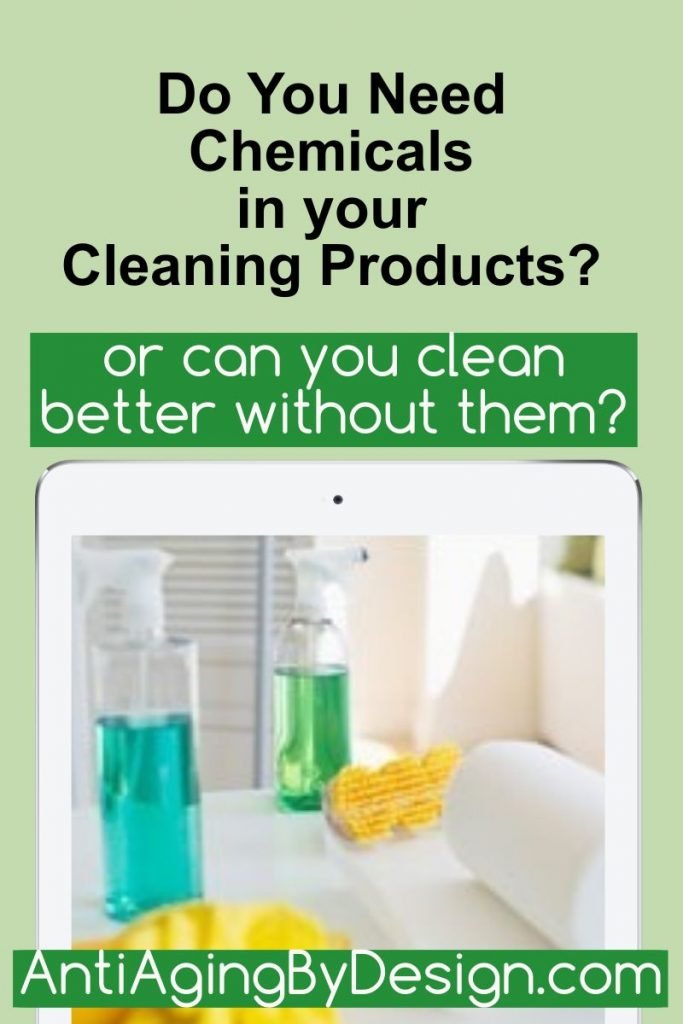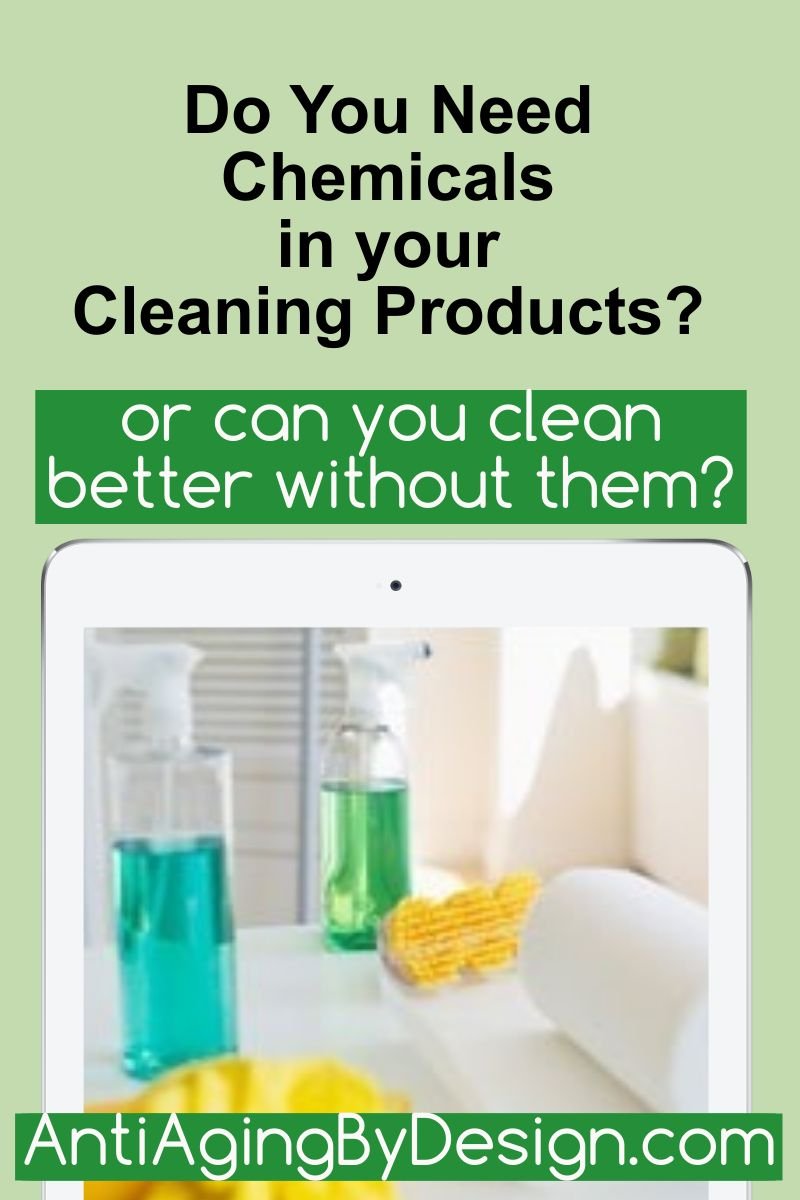 This blog post contains affiliate links for products we have personally used for 38+ years.
Clean Without Chemicals To Get the Job Done
The first question you may ask is can you really clean effectively without chemicals? Can green, no chemical cleaning products get the job done?
The answer is yes, absolutely. Chemical free, natural cleaners have been tested against name brand or popular brand cleaning products and perform just as well and often better than chemical filled cleaners.
You can green clean throughout your home – every surface in your kitchen and bathroom, dusting, floors and walls, dishwashing and laundry. In this article we will focus on a general purpose green cleaner as an example.
Even more important:  when you clean without chemicals, you aren't exposing yourself or your family to these toxins that can weaken your immune system, bother you if you have allergies or asthma, or potentially put you at risk for respiratory illnesses.
Basic H2
Basic H2 is a safe and natural general purpose cleaning product with sustainably sourced ingredients derived from corn and coconuts. It is very concentrated and you mix it with your own water to make various cleaning solutions. There are no chemicals in it and yet it cleans better than any cleaning product I have used.
Shaklee Basic H2 is a very complex product in that you can wash your fruits and vegetables with it, and you can also effectively clean some very nasty, greasy messes.
As an all purpose cleaner it will penetrate dirt so you can easily wipe it away, unless of course you like using those muscles to scrub scrub scrub. The secret is to spray Basic H2 on the dirt (food or other mess) and let it sit a couple minutes. After many years using it I am still amazed how quickly you can wipe away the mess.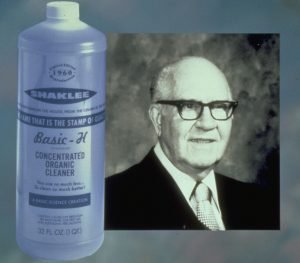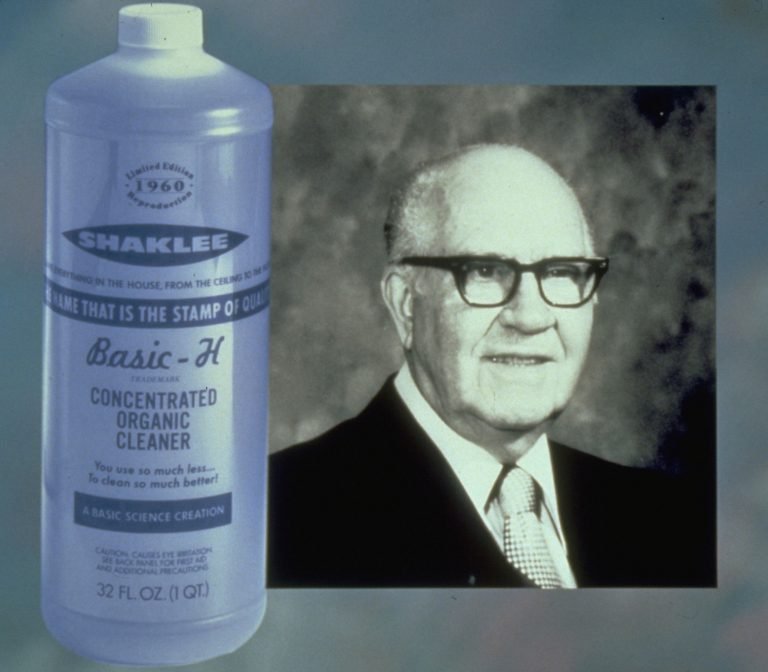 I was introduced to Basic H, from the Shaklee Corporation, back in 1982, but it was created much earlier. The current name is Basic H2, updated from the original Basic H formula introduced in 1960.
Basic H was one of the very first biodegradable cleaning products in the United States, and the official cleaning product of the first Earth Day, in 1970.
If you are not familiar with Shaklee, the #1 Nutrition Company in America, it is so interesting to learn about the founder, Dr. Forrest C. Shaklee who had such a passion for nature. He believed that nature can supply everything we need to be healthy, and if you are taking from nature he believed we should tread lightly on it. This was back in the early 1900's, long before anyone talked about the environment.
Dr. Shaklee was certainly a visionary, and built the company with a mission to help create a healthier life for everyone. He believed that healthy living includes natural nutrition, pure drinking water, and personal care and home care products that are healthy and safe.
Everything Shaklee does is designed to be in harmony with nature. This is why it was important for Dr. Shaklee to create cleaning products that would not harm people or the environment.
Help the Environment AND Save Money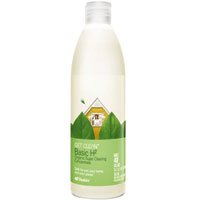 In addition to not having chemicals, Basic H2 helps the environment in other ways as well. With it being so concentrated, and you mixing your own water to clean with it, hundreds or even thousands of bottles of cleaning products do not have to be manufactured, shipped, or end up in landfills – saving a lot of pollution in the environment.
Mix it up
Basic H is conveniently mixed into 3 formulations to match your cleaning job. A set of 3 Spray Bottles labeled for specific uses can be purchased, or you can buy your own spray bottles.
For example, you mix 1/4 tsp of Basic H2 in 16 oz of water for all purpose cleaner, making hundreds of bottles of cleaning solution from just one 16 oz bottle of Basic H2. You use only 2 drops in 16 oz of water to make a window cleaner, replacing thousands of bottles of window cleaner. 1 and 1/2 tsp with 16 oz of water will make a degreaser formula, again saving many bottles from ending up in landfills.
It may require a mind shift if you use a different cleaning product for every cleaning job, to switch and use just one product. Basic H2 has hundreds or even thousands of cleaning uses, so it can replace quite a few cleaning products in your home and save you a ton of money as well.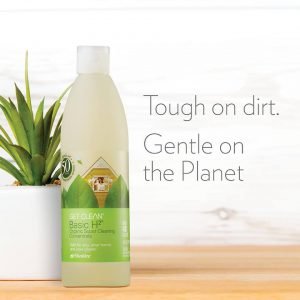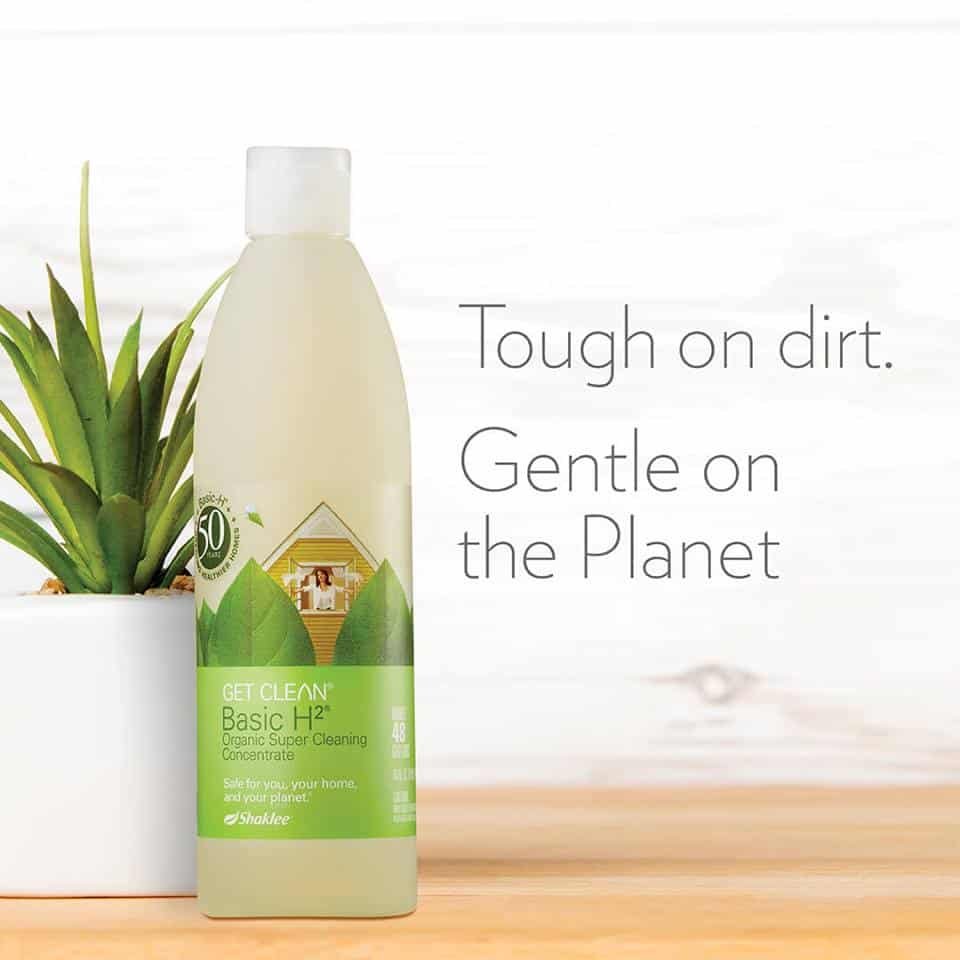 Basic G
When you want to kill the germs in your home, you need a germicide in addition to Basic H2.
Can you kill germs in a safer way than many of the disinfectant products that have so many chemicals and toxins?
Is there a healthier alternative? We say YES!
Bacteria, fungi, and viruses can wreak havoc on your family's health and safety. Chlorine bleach is toxic to the skin, lungs and immune system.
Basic G is a germicide that disinfects and cleans.  It is an anti-viral and anti-bacterial cleaner.  We have used it for over 30 years to work on the germs in the house (and outdoors as well).  Some of the household uses below are what has worked for us and we think you will find them very effective in your home if you decide to try Basic G.
Basic G can be used throughout the house to keep all surfaces sparkling clean and kill many household germs.  And if you are watching your budget, you will be happy to know that Basic G provides a concentrated cleaning and disinfecting solution for pennies per gallon.
We use one tablespoon of Basic G along with water to fill a 16 ounce spray unit, and spray on the following:  tub, faucet, shower, kitchen sink, garbage disposal, toilet seat and all surfaces including bowl, inside refrigerator & dishwasher, wastebaskets, trash compactor, cupboards, stove tops, and ovens.
We don't personally use Basic G every time we clean those surfaces (other than on toilet). We also clean them with Basic H and then do the disinfecting on a regular basis.
Also GOOD TO KNOW:
Here are some other uses:
Diaper pail- 1 to 2 tablespoons to 1 to 2 gallons of water, use as a soak.
Add 1 tablespoon to the rinse cycle of your washing machine, if you feel the need for a germicide during winter flu season or when someone is ill in the family.
Telephone receivers, mobile phones, and other appliances that the hands and face come into contact with.
A once over wipe down will reduce germs on floors, walls, door handles, children's rooms, play areas for children, tabletops, and counters.  Use in pet areas where your pets eat and sleep.
Basic G is very concentrated. Because if its germicidal ingredients, extra safety precautions are required when handling this concentrate.  A special notice is included on the label and a child resistant cap is provided.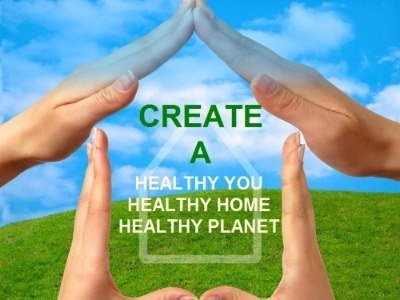 Live Healthier
Would you agree that cleaners shouldn't leave behind more toxins than the toxins they are supposed to clean?
Recently we have learned more about how chemicals can be unhealthy. Think allergies, asthma and other respiratory problems. 25 million suffer from asthma. 1 in 10 school-aged kids have asthma. Common household cleaners and appliances give off fumes that can potentially increase the risk of children developing asthma.
The potential health risks of indoor pollutants like the chemicals in your cleaning products are: respiratory irritation, bronchitis, emphysema, respiratory infections, irritations of the eyes, nose and throat, headaches and even nausea.
Look at this list of chemicals that are in common cleaning products and the kind of problems they can cause. Most have never been tested for risks to humans even though they have some pretty scary product labels.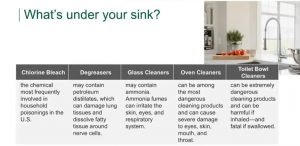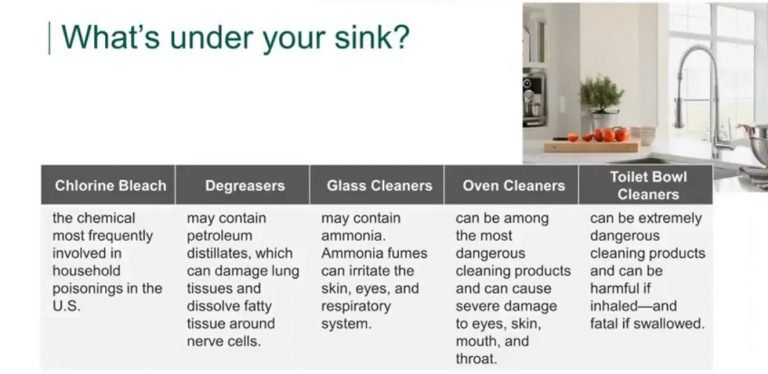 Clean Does Not Have a Smell
Do you need the smell of chemicals, such as bleach, to feel your home is clean? This may originate from when you were young and that is what was used to clean your home. There is no smell to clean, it is the chemicals that you smell.
The Vinegar Question
Here is a questions that comes up when talking about cleaning without chemicals:  What about cleaning with vinegar – it's natural? Vinegar has been documented as a natural and effective cleaning product, but what you may not realize is that vinegar is not ph-balanced to your skin, so you should use gloves when using it to clean your home.
There is also quite a smell to vinegar that may or may not bother you, but I personally don't enjoy it. Vinegar can corrode your pipes. And last, there is a major cost savings if you are comparing using Basic H2 instead of vinegar.
I believe in helping to keep our environment safe and clean, and cleaning without chemicals is one of my favorite ways to help the environment stay safe and clean. I also believe that my home and your home should be the safest place in the world.
With benefits like helping the environment, saving money and living healthier, would you be interested in changing the way you clean?
To learn more about cleaning with Basic H2 or any of the natural, green cleaning products from Shaklee, visit:  Green Cleaning Without Chemicals. To learn more about cleaning germs with Basic G, visit:  Disinfect a safer way.