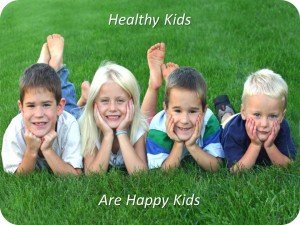 In our month long nutrition discussion in honor of Natural Nutrition Month, today we talk about how to help childhood obesity with nutrition. Unfortunately, overweight and obesity in children is rising at alarming rates; and this sets up a life long struggle with both weight and good health.
One of the hardest things to understand is how can you be overweight and yet undernourished?
I guess the easiest way to consider this dilemma is that kids are eating high calorie, low nutrition food and drinking the same. Did you ever look closely at high sugar drinks? They are packed with lots of calories, adding to the daily overabundance of calories.
There's little nutrition in high sugar, high calorie drinks. There's little nutrition in processed foods and fast foods; and this is what our children are eating too much of every day.
When I was young, it was a treat to eat out. Today, if you visit restaurants or fast food places – they are packed. They're packed every day of the week, all day long. And non-nutritious food temptations are everywhere where kids are: vending machines, convenience stores, at home.
Eating out is not bad in general, but if you choose high calorie, high fat and high sugar choices – overweight and obesity are going to be issues. And if nutrition is lacking because your diet is more about taste than nutrients, there is the concern about being undernourished.
We live in a fast-paced world and we are busy every day. It's hard to prepare healthy meals – if we don't plan for them. I like to add that second part because it really does only require a little planning. We have pretty much information overload on any subject we want to research.
If you go to Google and search for how to prepare healthy meals for your family with little time required (or a similar search), you're going to find all kind of ideas. Or how about searching how to make healthy dishes on the weekend that your family can eat during the busy weekdays.
Yale School of Medicine states this on their website:
Baby fat is something children are supposed to outgrow, not grow in to. According to the National Center for Health Statistics 2009-2010, the percentage of young people who are overweight has more than tripled since 1980. Among children and teens ages 2 to 19 years, almost 17 percent are considered obese.
They go on to talk about:  "serious consequences for children, including self-esteem, social problems, and increased risk for chronic diseases." The disease part is what is so scary to me – that our kids are getting sick with diseases that are traditionally associated with aging.
So why are the scales tipping for so many children? Experts think there is not a single cause, but several to consider – such as genetics, lack of enough physical activity on a daily basis, and of course the poor food choices that we discussed above.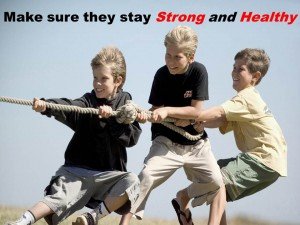 The reason our kids aren't moving around enough is largely due to technology. They have gaming systems, too many television choices, computers, smart phones, and the couch has become the favorite spot in the house.
How can we get our kids more physically active? That may go right back to their diet. Without enough protein and good food choices, kids don't have the energy for exercise. The wrong kind of carbs, such as convenience food, processed food, or junk food, are not energizing.
Protein with every meal and snacks that have good sources of protein and healthy carbs help children feel better because their blood sugar is balanced and they can focus and think clearly. There are also all-natural food supplements that can help children who aren't getting enough nutrition from their diets.
If we get our kids energized with the right food and discourage the unhealthy choices, including sugary drinks, and talk with them about the importance of some kind of regular physical activity – these are positive steps that can definitely impact their weight and their health.
Even when we eat well, we now know that most of us need that extra insurance of a daily multivitamin/multimineral – kids included. There are now long-term food supplement studies that prove nutrition supplements build better health, including vitamins, protein shakes, and omega-3 fatty acids that can help with better focus, concentration and behavior issues. To learn more, visit Children's Nutrition Supplements.