The Fountain of Youth
The French Paradox
Anti-Inflammatory

Calorie Restriction..



…what do they have in common?
Are you searching for a way to live longer, feel younger, and have better quality of life as you grow older? We are now familiar with what has been termed the French Paradox, that refers to the low rate of heart disease given the dietary lifestyle in that part of the world. Eating more cheese, butter, eggs, and other fatty foods that would normally be associated with increased heart disease does not hold true there. Is the difference because of the amount of wine that is consumed there?
In America we eat the same fatty foods and possibly worse because we tend to eat larger quantities. Most of us don't drink wine with every meal, and we have a high rate of heart disease. We also have some new choices that may help. Scientists have discovered that an active ingredient in red wine that is good for you, resveratrol, has all kinds of benefits including:  prolongs life, helps diabetes, and lowers cholesterol.
American anti-aging – Fountain of Youth – research found that this resveratrol molecule affects proteins in the body that have to do with longevity, and a way to isolate it in natural supplement form.  One of the reasons why doctors are choosing to take resveratrol daily themselves is for its anti-inflammatory benefits – low grade inflammation that is associated with many of the diseases of aging that threaten all of us as we grow older.   There is also ongoing research for a resveratrol medication but that is still years away.
Scientists have been studying the aging process, and how to impact it, for many years. Billions of dollars are spent to try and bring the Fountain of Youth to all of us. We want to slow down the aging process, and have better quality of life while we live longer. It's not enough to simply grow older, we want to feel great and enjoy those years!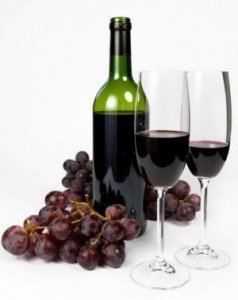 Resveratrol and polyphenols from the grapes that make our wine have been found to benefit our cells in a positive way. In fact, all four key mechanisms of cellular aging can be impacted: protect and repair cellular DNA, positively impact genetic regulators, promote mitochondrial biogenesis, and slow AGE protein formation. Most of us do not understand those scientific terms, but just understand that this all happens at the cellular level. Our cells are what determines our health. If they get sick, we are sick.
Heart health, brain health, cardiovascular health, joint health, and immune health are all supported by this seemingly wonder supplement called resveratrol.
Scientists have learned through the study of animals, specifically certain cold water fish, that they do not age as other creatures do. Something in their genes controls the pace of aging, and researchers believe that humans have it as well. What is exciting about resveratrol research is that we seem to have found a trigger in the human body that can help prevent aging.
It is the sirtuin 2 gene that appears to be the master regulatory for human aging. It was discovered in the laboratory, with yeast, that when calories were restricted, the sirtuin 2 gene was switched on and extended life. This gene is present in animals and humans as well. Scientists believe that it is responsible for the health benefits of calorie restriction.
Researchers have been focused on a way to create the effect in humans without an actual calorie restriction diet. That's because most people can not stay on a diet that cuts 30 to 35% of calories on a daily basis. We are just too hungry. However, if we can trick the body into thinking it is on a calorie restricted diet, in order to get the anti-aging benefits, it may provide the longevity benefits that have been studied so long.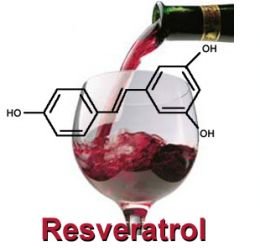 A longer life that is filled with vitality, good health, and the opportunity to stay active as we age, is something desirable for the majority of us. Resveratrol and polyphenols have some amazing attributes: can keep our cells from aging, may prevent neurodegenerative diseases like Alzheimers and Parkinson's, kills cancer cells, protects against and helps symptoms of arthritis and AIDS, suppresses inflammation, has antibacterial and antiviral effects, promotes vitality and prolongs life.
When science tells us that we can reduce life-shortening diseases like cancer, Diabetes, and Alzheimers, it is very exciting. The ability to put enough active ingredient into a natural supplement that has no sided effects – only side benefits – is truly breakthrough in the health and wellness industry. We don't have to wait for a medication because we have potent resveratrol supplements available now.
The challenge is that all resveratrol products are not created equal. It is important that the formulation be pure, or it can produce unwanted digestive side effects. It is important that the correct amount be included in a daily serving dose so that results can be realized. It is important that the ingredients be of high quality or you may not get the full benefit. The company behind the resveratrol should do its own research and science on the products so that the formulation they produce is safe and able to be absorbed by the body.
Science gives us the answers. It is up to us to take action and be in control of our own good health and successful in our quest for longevity.
Our own #1 Natural Nutrition Co. has the most potent anti-aging resveratrol…  with polyphenols: 

VIVIX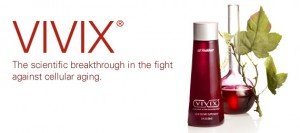 _______________________________________________________________
Why Buy Health & Wellness Products from the Shaklee Brand?
(scroll down for symptoms and solutions)

Designing a nutrition program for yourself, with this brand, has already been proven (through a 20 year landmark supplement study) to impact your health in a positive way. Lower disease rates, less sickness, overall well being were all healthy benefits resulting from food supplement use. The same was not true with other brands in the study or with no supplement use at all.
The quality of ingredients that are in Shaklee products, the delivery systems that help you absorb the nutrients better, and the comprehensive testing Shaklee does on all products sets this brand apart from almost all of the competition (I have yet to find a company that compares).
In addition to a daily nutrition foundation program and high quality nutrition products targeted at specific health challenges, we now have a cellular anti-aging tonic that can help you feel younger and healthier and fight the diseases of aging like arthritis, heart disease, diabetes, Alzheimers and cancer.
All Shaklee products, including Vivix, may be ordered from the Main Order Site. Vivix can also be ordered on the revolutionary Vivix site.
There is an abundance of health information on this site.  I encourage you to learn how natural nutrition supplements can build good health, fight aging, and even impact illness and disease you might already have.  Click around to posts throughout the website and check out the Healthy Audios and Videos link at the top of the page. Please contact me with any questions, to discuss, or for help.
________________________________________________________________
SYMPTOMS and SOLUTIONS:
frequent fatigue, irritability, high stress level, anxiety, temper, mood changes, PMS, headaches, excessive fluid retention, craving for sweets, alcohol or coffee, digestive problems, Carpal Tunnel Syndrome, hurt all over, heart palpitations, hair loss, cracks at the corners of mouth, memory problems, arteriosclerosis, heart disease prevention.
Also B-Complex for Hypoglycemic Tendencies: emotional on empty stomach, shakiness, headaches relieved by sweets, weak spells, tiredness mid-afternoon, faintness, dizziness, lack of concentration, irritable before breakfast or if meal is missed, intense frequent thirst.
muscle cramps, insomnia, foot or leg cramps, frequent backache, headaches, arthritis, muscle tension, irregular heartbeat, joint pains, osteoporosis, PMS, menopause, consume less than 3 servings per day of milk, yogurt or cheese.
frequent colds and flu, bruise easily, varicose veins, smoke cigarettes, bleeding gums, hangnails, cuticles tear easily, nosebleeds, slow healing of wounds & fractures, allergies, arthritis, history of cancer, high cholesterol, heart conditions, high level of stress, interested in preventing cancer, eat less than 2 servings of fruit each day, eat less than 3 servings of vegetables daily.
Vitamin E (with Selenium and Grapeseed extract)

heart conditions, shortness of breath on exertion, hot flashes, diminished sex drive, breast tenderness, cystic conditions, fibrocystic disorders, cold hands and feet, psoriasis, leg pain low exercise tolerance, hormonal imbalances, high blood pressure, history of tumors, scar formation, blood clots, excessive exposure to sunlight, xrays & other forms of radiation, history of miscarriages, sterility, eat fried and processed foods, poor circulation, premature aging, aging spots on skin, interested in preventing cancer, HIV virus.
Soy Protein Supplement (high quality energizing soy)
(Energizing Soy also available in Cinch Shakes)
frequent fatigue, weakness in general, mood swings, irritability, poor muscle tone, slow would healing, frequent colds, flus or infections, frequent exercise (for recovery), splitting nails, want to prevent prostate cancer, family history of breast cancer, menopause, vegetarians, hypglocemic tendencies, high cholesterol levels, dry hair
PMS, menstrual irregularities, menopause, hot flashes, behavioral disturbances, miscarriage in females, sterility in males, diminished sex drive, eczema, pregnant or nursing, loss of hair, excessive perspiration, growth retardation, arthritis, Diabetes, Lupus, learning disabilities, fibromyalgia, low metabolic rate, dry tear ducts.
Herbal Laxative and Fiber
(also 6 grams of soluble fiber in Cinch Shakes and 4 grams of soluble fiber in Fiber Plan
constipation, frequent headaches including migraines, hemorrhoids, rarely have daily bowel movements, colon problems, acne, work around toxic chemicals, work around fumes, body odor, consume processed foods, Diverticulitis, Crohn's Disease, family history of colitis, diabetes, eat less than 6-11 servings of whole grains daily, eat less than 3-5 servings of fresh vegetables each day.
________________________________________________________________
We all know that there are many (MANY) weight loss and weight management plans on the market? And if that's the case, why are so many people still struggling to lose weight?
I believe that we can't simply go on a diet, lose weight, and expect to keep it off. We need to find a way to integrate weight loss, inch loss, fat loss, and finally weight management into our every day living.
Plus we need a healthy plan. Enter Cinch.. the program that is proven to work AND helps you get healthier as you shed those pounds!
p.s. 100% money back guaranteed.
Cinch® – Your Defense
Against the Holiday Weight Gain Blues!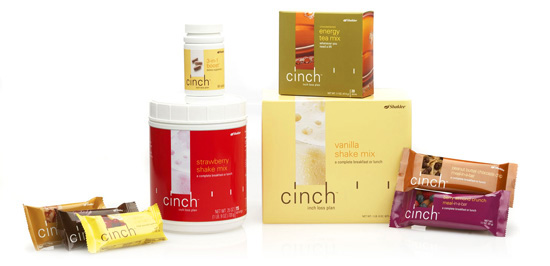 It is hard to eat healthy meals when there are holiday treats everywhere you look. And, guess what? The barrage of cookies, candy, and buffets won't end for another month. Nor will the busy schedules that can make the drive-thru lane of the closest fast food restaurant look like a good choice.
Arm Yourself for the Season with
Cinch!
Cinch delivers a knock-out blow to the temptation of "just a taste" of unhealthy holiday treats. Think of a Cinch shake for breakfast or lunch as your main defense. With 24 grams* of hunger-fighting protein, plus extra leucine so you don't lose muscle, and four delicious flavor choices, Cinch shakes are a great way to help keep your day on track. Chocolate? Vanilla? Strawberry? Café Latte? Take your pick and leave the chips-and-dip behind.
Need even more convenience? Try a Cinch Meal-in-a Bar. Keep one in your purse, gym bag, or just tuck one in your pocket when you head out the door, and you have a super quick, super healthy, breakfast or lunch option. It is even faster than "fast" food, and costs less than most – so no more excuses for eating burgers and fries. No more guilty, bloated feelings from the so-called Value Mega-Meal you just ate. Instead, you get the great taste of a Peanut Butter Chocolate Chip or Berry Almond Crunch Meal-in-a-Bar**, and a bit more change left in your pocket for your holiday shopping.
Round out your arsenal with yummy snack bars and an energizing tea. You will never be bored when you can choose from Peanut Butter Crunch, Chocolate Decadence or Lemon Cranberry bars, and Unsweetened or Pomegranate tea sticks. With snack bars on hand, and a tea stick to add to your water bottle, you won't need candy bars, sodas or rich coffee drinks to get you through a busy afternoon.

Be your happiest,
healthiest you this holiday season, with Cinch!
"The shakes taste incredible, make me feel great and help take away the burden of meal planning." – Robert M
For more inspirational stories, please go to HealthyWeight Loss

*When prepared as directed
**MN price $3.78 per bar
***Results not typical. In a preliminary clinical study of the Cinch Inch Loss Plan, participants on average lost 15.4 pounds over 12 weeks.
________________________________________________________________
PROMOTE LONGEVITY
Many folks use the Vivix Cellular Anti-Aging Tonic specifically for the longevity benefits. In fact most consumers of this brand use the products because they work so well and give such great benefits, not to be compensated.
That said, there is a great opportunity to let this brand mean even more to you. Whether you would simply like to have more of a discount on your products, earn enough money to pay for them in full, or earn significant money with our company, you do have those choices.
The way this company grows and the products reach more people is from word of mouth. That is how this company continues to thrive for over 52 years.
You are welcome to have a look at the business opportunity through the Social Marketing Home Business website, the Anti-Aging site, or directly at the Main Site -Click on Income Opportunity at the top right.
________________________________________________________________