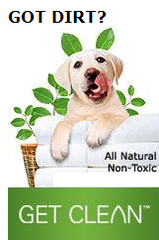 In honor of the Royal Wedding today, and for what's more the reality at this time of the year for us common folk (spring cleaning), I thought I would write about green cleaning and my royal cleaner of choice. Green cleaning is new to lots of people but for one company it has been the common way to clean – and do business – for many, many years.
Green Cleaning
The Shaklee Corporation's Basic H was actually the official green cleaning product of the very first Earth Day in 1970. I would say that honor, along with the company's impressive environmental efforts for all of these years, puts Basic H at royalty status in our country!
Walmart was in the news recently with promotion of their recent green efforts, which are commendable. While I didn't like one of the comments in the article, in regard to people who live paycheck-to-paycheck not being necessarily concerned with lofty environmental efforts, I do applaud their green policies. Individuals and families from all economic levels care about our environment, the air we breathe, water we drink and how toxic products can affect our health.
Green extends far beyond Shaklee and Walmart. It doesn't look good if a company is doing nothing to contribute, and most want to do their part. Some have grander efforts than others and together they 'make a difference' – the same as all the smaller efforts that individual families can do will combine to take a significant difference.
Green Cleaning for Families
Green ideas for families – ways to help make our planet cleaner and safer – can take many forms from green light bulbs to green paper products to limiting use of disposable items and countless others. My favorite way to contribute to the environment, as well as to improve the health and safety of my family and our home, is to use green cleaning products that take chemicals, toxins and fumes out of the air we breathe as well as save measurable energy output.
Cleaning products as well as other personal care products we use in our homes can contain chemicals and toxins that have been associated with common illnesses and serious diseases. We have control over that by simply not using products that may be unsafe. As further incentive, alternatives can save us a lot of money while helping us be safe and healthy.
In terms of the environment, concentrated green cleaners can be mixed with your own water, in your re-useable spray bottles, and therefore keep many bottles out of our over-crowded landfills and save the energy required to manufacture and ship those bottles all over the country. It's a win-win for families and the environment.
What about cleaning power? You don't want to sacrifice performance for green because you want a clean home. Green cleaners have come a long way. While Shaklee's original Basic H, and now Basic H2, have always been powerful cleaners (we tested them against the most popular brands and they proved powerful!), people have been discouraged throughout the years when using some green brands. Time has improved quality.
Green Cleaning is Powerful, Safe and Economical
Here is more about why Basic H2 is my royal cleaner:
1- Green is healthy and look what Basic H cleans.
2- Green saves money and I like to save money
Green cleaning is one of the easiest ways families can contribute to the environment. Making the choice to purchase products that don't contain harmful chemicals, toxins or fumes is a smart choice in terms of our health as well.
If you would like to discuss green cleaning, contact me through this page, leave a comment, or visit Green Clean Special.
*For a limited time Shaklee has put together a $30 cleaning package that will save your family hundreds of dollars, and also for a limited time the purchase of this package qualifies you for a free Shaklee membership that gives you discounts on subsequent purchases as well. More information can be found at this link: Shaklee Healthy Home Pack.