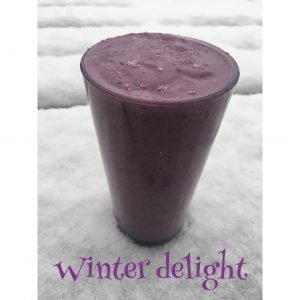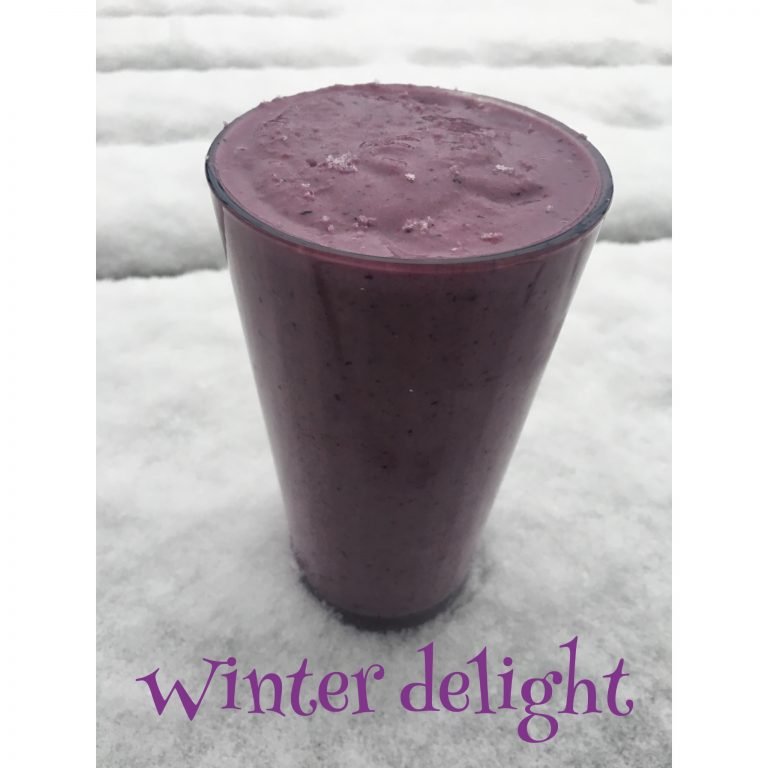 Here's my energy booster this morning. It may be frosty outside but I embrace a little frosty inside as well – because I like how it helps me feel!
It's a soy protein shake made with strawberry Life Shake, frozen banana and berries, and some coconut milk. It tastes awesome which is why you would actually commit to drinking it every day, IF the benefits alone won't keep you drinking.
The benefits are even more awesome (see below an audio recording of the healthy benefits of a protein supplement and for the 11 reasons why this shake will help make your days better). With our busy lifestyles, stress, anxiety, lack of enough energy to get through the day, being pulled in so many directions – a quick shake that can save us precious time and help us feel healthier sure is a win-win!
Soy protein and increased energy, by balancing your blood sugar for extended periods, go hand in hand.  Starting your day with a high quality, healthy protein source such as soy can help you feel energetic, think better from one meal to the next, and enjoy a 'balanced' feeling that doesn't include that drop in energy many people get when their sugar or carbs where off in an hour or so after eating.
Listen to the Audio presentation at the link below to learn all the healthy benefits of a protein supplement – when you learn exactly how protein can transform your life, you won't want to be without your daily shake!
I just read a blog post about a parent cutting up fresh fruit and laying it out on the table.  'Magically', it disappeared, even though chances are if we ask our children if they want fruit, we may get a 'no' answer.
I commented on that post that I used the same approach when my children said they weren't hungry or didn't have time for breakfast before school.  Knowing the importance of having breakfast for both energy and alertness until the noon meal, we started to blend up a healthy soy shake and set it out.  'Magically' those shakes got consumed (by children AND parents) and the kids (AND parents) must like the effect it gives because they keep drinking them!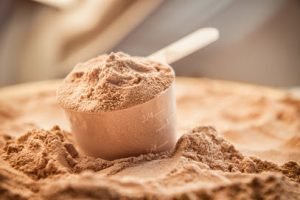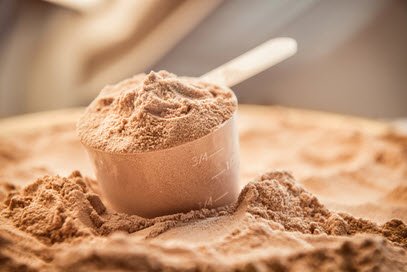 Below are 11 reasons why you should have a protein shake every day.
Important to note:  Not any protein shake will deliver all this goodness. Everything stated below is only true of protein supplements from the #1 Natural Nutrition Company in America:  Shaklee.
1.  A great source of energy, with 16 grams of ultra-pure, proprietary, plant-based, non-GMO protein with precise ratios of all 9 essential amino acids (can increase amount of protein if you mix with milk or another liquid that contains protein).
2.  Probiotics that really work for healthy digestion – a powerful patent-pending combination of prebiotics and one billion CFU of patented, clinically-tested probiotics to support digestive and immune health (we feel that everyone should get high quality probiotics and prebiotics daily – you digestion and immune health is that important!
3.  The probiotics that are 780 times more viable than the probiotics found in yogurt.
4.  Contains leucine to help power your muscles – helps you retain lean muscle. Helps you burn fat not muscle to achieve a healthier weight.
5.  FREE of artificial sweeteners, preservatives, and flavors.
6.  Non-GMO, gluten free, lactose free, low glycemic and certified Kosher.
7.  Packed with nutrients plus fiber:  the amount of protein found in 4 eggs; the amount of fiber found in 1 cup broccoli+1 cup pineapples+1 cup cauliflower; the amount of calcium found in 2 cups milk; the amount of vitamin D found in 10 oz. of tuna; and the amount of leucine found in 5 oz. of chicken.
8.  Available in soy and non-soy versions.
9.  Non-Soy features an exclusive, patent-pending blend of non-soy protein with sacha inchi, potato, rice, pea, and leucine, along with omega-3 ALA, an essential fatty acid that supports heart and brain health.
10. Excellent meal-on-the-go, whether it be breakfast or another meal-on-the-run in your busy day.
11. Four delicious flavors year round. Vanilla, Chocolate, Strawberry, Café Latte, and some seasonal and holiday flavors offered as well. Lots of delicious recipe ideas as well.
Source:  http://go.shaklee.com/11-reasons-to-fall-for-life-energizing-shake/http://go.shaklee.com/11-reasons-to-fall-for-life-energizing-shake
Here is a great Soy Presentation.   I invite you to LISTEN .
When I first started taking SOY, I would take it through the week for breakfast each morning, but not so much on the weekends. Now, when I don't take my Protein Shake (also available in non-soy), or have a soy protein meal bar, there is a noticeable change in the way that I feel.. that I don't like. It is rare that I don't take it every day now, and I prefer how I feel much better than when I eat most other breakfast foods. Plus it makes me feel good to know that I am starting the day off doing the best I can for my body with this particular protein source – LISTEN to the Soy Presentation to learn what I am talking about.
There's always a lot written and discussed about soy protein. A lot of it is negative, and most of that is never really backed up with real information about the negativity. With so many healthy benefits available to your body when it gets that good, high quality, protein, it is worth your research to learn what you can and make an informed decision.
To help with that, here's an article where Shaklee's Dr. Daggy talks about one of these news stories about soy, and how it really can be misleading if you don't look beyond the story for the real truth.
I hope you have an ENERGIZED, fantastic day!!
Save
Save
Save