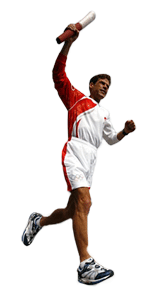 Ultra Marathon Man, Dean Karnazes,is a warrior who chooses products from the #1 Natural Nutrition company, including the sports nutrition products to train and compete in endurance running.
Dean's blog at runner's world tells about how he was selected to carry the Olympic torch while it passed through his hometown of San Francisco, CA.
A recent entry announced the nationwide film premiere of the 50 Marathons movie and encouraged those runners who are attending to 'run' to the show! Not sure what theater owners will think about that, but you can see more on the movie website.
Dean's impressive accomplishments have inspired many, from young kids to adults, to become better runners. They include: Winning the Atacama Crossing, a brutal 6-day race across Chile's most inhospitable desert; winning the Badwater Ultramarathon, 135 miles through the bowels of Death Valley in July; running a hellish minus-40-degree race through the South Pole (in running shoes); running 50 marathons in 50 states in 50 consecutive days and finishing with the NYC Marathon (which he completed in 3 hours flat); swimming across the San Francisco Bay; climbing Yosemite's Half Dome; mountain-biking for 24 hours straight; and surfing the monstrous waves off Hawaii's coast.
Karnazes' philosophies fit in well with our #1 Natural Nutrition company's philosophies. Quality of the brand, authenticity of products, and the science and research behind the products stand out to this athlete. For an accomplished top athlete like Dean to believe in and use this clinically-proven brand as part of his regimen is a great example for younger athletes and their parents who are searching for good nutrition for them.
Here is a podcast where a personal trainer discusses sports nutrition and athletes. Shaklee was also the nutrition sponsor for the U.S. Olympic ski and snow boarding teams that won numerous medals in 2010.
Please note: Since the podcast above was made, Vitalizer has replaced the Basics nutrition program they discuss and Vitalizer includes OmegaGuard (fish oil).