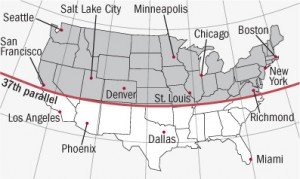 The question is:  Why take Vitamin D Supplements? Do you live in the United States (or Canada) – and above the line on the map shown above? It can help you determine if you might need more Vitamin D from now until April or so. (Link to the Harvard University website that shared this map along with other information about Vitamin D is at the end of the article.)
You can also take a Vitamin D quiz to see if you're getting enough Vitamin D.
Many of us are low in Vitamin D before heading into Fall & Winter. With so many health benefits associated with Vitamin D, it's well worth the small cost of a high quality Vitamin D3 supplement – it is one of the most inexpensive supplements you can take, and yet look at what it can do for you:
prevent or help arthritis
prevent or help asthma
prevent or help autism
prevent or help back pain
prevent or help cancers (breast, colon, prostate)
prevent or help chronic fatigue
prevent or help dental problems
prevent or help depression
prevent or help diabetes
prevent or help fibromyalgia
prevent or help heart disease
prevent or help high blood pressure
prevent or help hypertension
prevent or help kidney disease
prevent or help lupus
prevent or help MS
prevent or help muscle cramps
prevent or help obesity
prevent or help osteoporosis
prevent or help psoriasis
prevent or help seasonal affects disorder
prevent or help thyroid
Why Take Vitamin D
In addition to needing more Vitamin D during the fall and winter months, you can experience some very nice benefits to help with the kinds of problems in the list.  These are results that you will 'feel' in your body.  A little disclaimer:  food supplements (vitamins) are not regulated like prescription meds.  It is essential to find a good quality brand because you need to be able to trust that the product is safe and will help you.
I enjoy watching the Dr. Oz show because I learn a lot about natural health. He can help answer questions like 'why take vitamin d' and many other concerns you may have about your health.
I really like the Dr. Oz show and all that he stands for in terms of the preventive side of the health industry.  Dr. Oz said, "If I could pick one vitamin to push to everybody, it's Vitamin D!"  That's because of the many health challenges that Vitamin D can help with, and the fact that it can be hard to get enough in your food.
Lately, your doctor may have told you that your vitamin D levels are low and you need to take a supplement.  The number of people hearing this news has been rising the past couple of years.  The scary part is that Vitamin D deficiency can even be fatal.
The numbers may in fact surprise you:  over 200 million people in North America alone are Vitamin D deficient.  The good news is that you can take an inexpensive supplement and raise those levels to the healthy range.
Vitamin D and Breast Cancer
Clinical studies show that raising Vitamin D levels in your body can help reduce the incidence of breast cancer in the United States by 35 – 80%. That 's impressive given the number of people (men and women) who get breast cancer annually.
A study in 2008 showed that the women who were deficient in Vitamin D at the time they were told they had breast cancer had a 94% chance of having their cancer spread. That's a good reason to make sure you have adequate vitamin D levels.
To learn more about a very high quality and inexpensive Vitamin D3 supplement from the Shaklee Corporation, the #1 Natural Nutrition Company in the United States, visit:  Shaklee Vitamin D (VitaD3) – including how it is subjected to over 300 tests to guarantee product purity. Supplemental Vitamin D is clinically supported and proven to significantly raise blood levels of vitamin D.
________________________________________________________________________
Here's a link to the Harvard University site that posted the map image above: