Botanicals vs (Synthetic) Chemicals – with Guaranteed Results!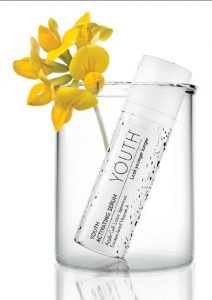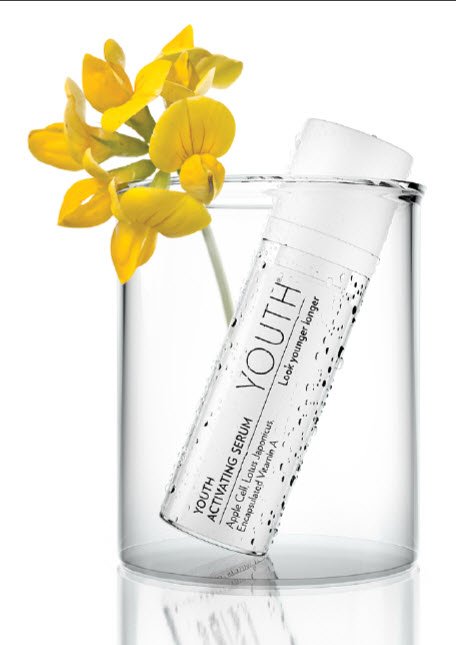 YOUTH is  CLEAN Skin Care with nourishing, essential nutrients and vitamins that are clinically proven and created in harmony with nature so they are SAFE FOR YOUR SKIN.
We are so excited to have a full line of facial skin care products to meet all of your healthy skin and anti aging needs. They Hydrating Collection was introduced after the AntiAging Collection, so we have updated this article to start with info on the hydrating skin care products – keep reading for all the details on both collections!
There is a lot of information packed on to this page so that you can see some of the science, benefits and ingredients in Youth, as well as how safe and healthy it is to use.
In a world where we have too many chemicals, including inside skin care and personal care products – we also have choices to avoid those chemicals and still get the same (or better) results for our skin – guaranteed!
You can read all of the information here first, or jump to our Shaklee page that also has the info you need to try YOUTH risk free:  Youth AntiAging and Hydrating Skin Care.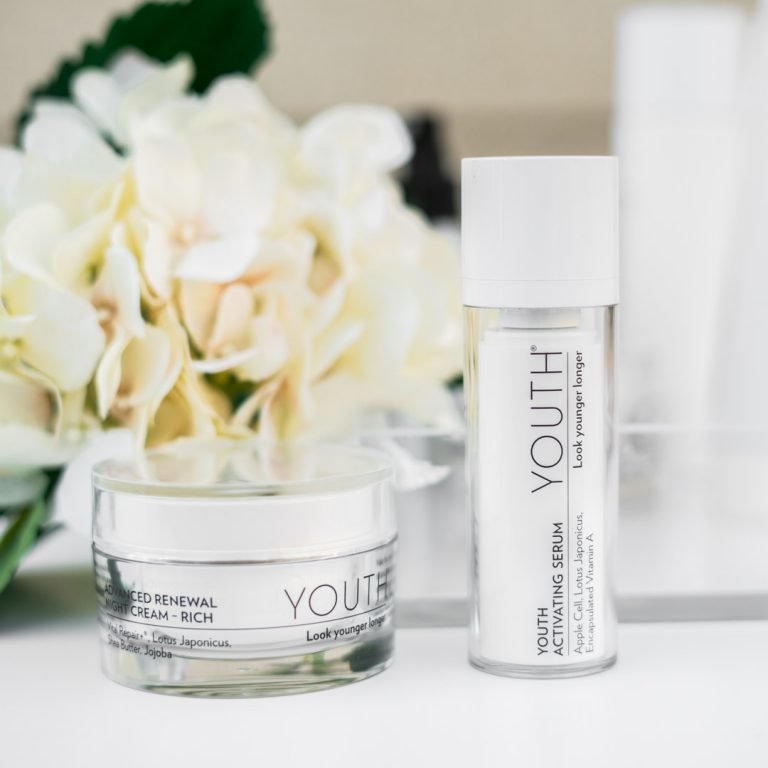 It's about Hydration as well as Anti Aging!
All kinds of things can age your skin, causing dry, dull, wrinkly skin way before you should have that be happening:  dry climates, environmental damage, lifestyle choices including tanning and smoking, sleep deprivation, stress, and, yes, even the food you eat.
You may not even realize your skin needs moisture until you give it the right moisture!
This is what we found when Shaklee introduced the newest hydrating serum that immediately boosts your hydration levels by 212%. And it maintains your skin's hydration levels for up to 8 hours – with just one application!
We had been using the Anti-Aging Serum, with results like looking younger, better skin tone, less wrinkles, brighter looking skin and healthy looking skin, for about a year when the newest skin care products were added to the Youth line of advanced skin care products and treatments. 
Hydration really does provide an immediate difference. And the new serum worked in to our existing regimen so easily. We are also loving both the clay and hydrating masks for imperfections and that awesome hydration. We really have the best of all healthy, anti-aging skin benefits now.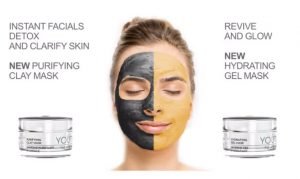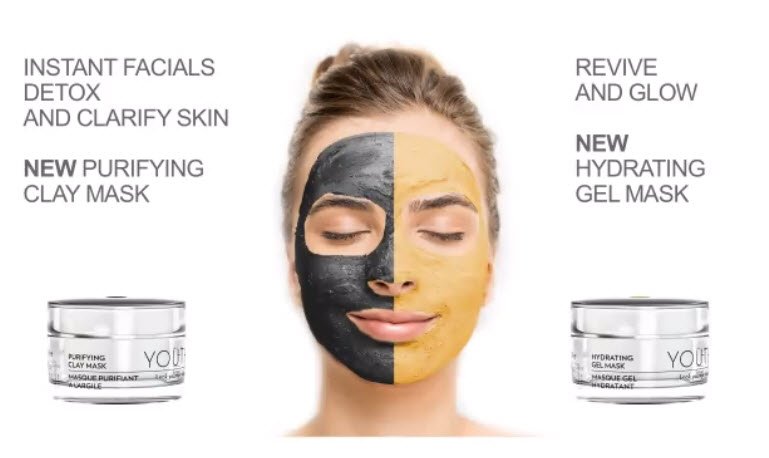 Youth products from the antiaging and hydrating lines can be used together and there are moisturizers in both collections, so if you choose the anti-aging line you will still have wonderful moisturizing benefits.
The #1 Natural Nutrition Company in America helps you: Live Younger Longer.
Why shouldn't Shaklee also develop the most advanced anti-aging skin care products, with the largest 'Free Of' list of any skin care company, to help you:
LOOK YOUNGER LONGER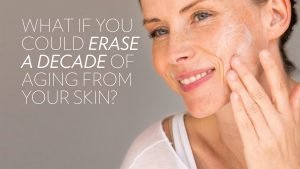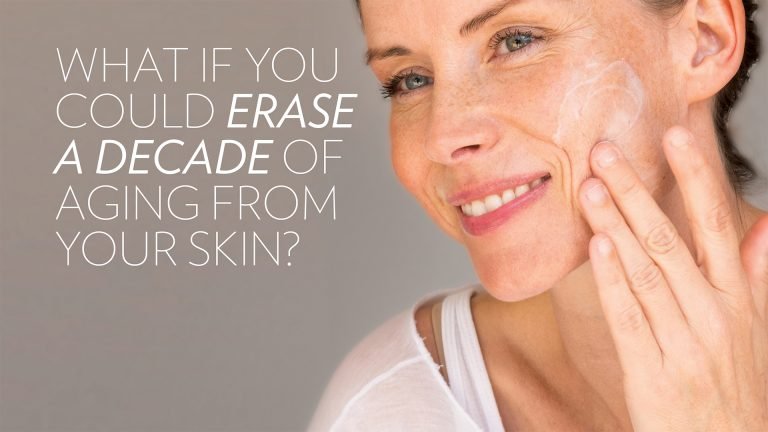 (free of over 2,500 harmful chemicals and questionable ingredients – that means free of the chemicals that can not only age your skin but also harm your overall health)
Who wants to take 10 years off of your face AND have healthier skin?
We do!
What if a healthy Skin Care System can help you have healthier skin as well as fighting the visible signs of aging and help you look younger longer.
What if that better skin health is at the cellular level of your skin, really helping you improve the health of your skin. 
Are these the kind of results you are looking for?
Reduce your fine lines and wrinkles
Pore size
Improve skin texture
Hydrate your dry skin
Even skin tone
Increase skin firmness
Decrease skin sagging
Skin radiance and rejuvenation
Polish and Purify your skin
Exfoliate, Hydrate and Nourish for glowing skin
New Collagen production to make your skin Act Younger
Elastin Production and Skin Cell Renewal
Protect Your Skin From Sun Damage, Free Radicals and Pollution
Provide Chemical Free Sunscreen
Shaklee Science Creates Youth Skin Care
Shaklee took 8 years of research and development specifically on Youth products (combining it with everything they had with the wonderful Enfuselle line that preceded Youth), choosing the most natural ingredients that Shaklee scientists could find that would make your skin look younger and be healthier, the advanced anti-aging skin care system, Youth, is exclusively available from The Shaklee Corporation.
A big part of the challenge during those 8 years was to create a safe, effective, advanced anti-aging skin care program that would deliver all the fantastic results listed above and more   –  AND not sacrifice your health in any way for your looks.
You see there are natural products such as beeswax that you can use all day long but are not going to see much in the way of anti-aging results.
Then there are anti-aging products with chemical ingredients that can be harmful to your health. But you don't have to sacrifice safety and purity for efficacy.
Shaklee took those 8 years to find the most natural ingredients in the world, that can also deliver dramatic anti-aging results – without harmful chemicals. In fact, Shaklee has the largest 'Free Of' (chemicals) list of any skin care company, and that is something we are proud to stand behind.
John and I got our supply right away (in Atlanta in August, 2017) and started using the Advanced Anti-Aging Regimen. Looking 10 years younger sounds pretty good to us!
Youth is for Men too!
Youth is not only for women. The (male) Shaklee scientists were gushing about it at conference as well. Men are searching for skin care that produces real anti-aging results, and we now have Youth that can provide those results of keeping your skin looking young AND healthy.
We are so excited to share what we learned about YOUTH, at conference, with you!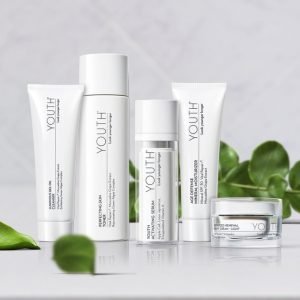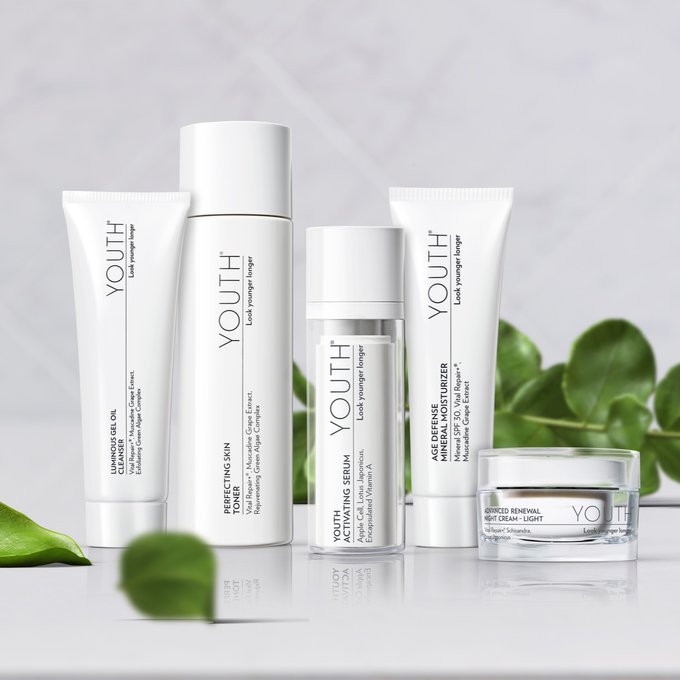 In studies, 100% of women were clinically proven to have younger looking skin AND 2/3 lost a decade using Youth Anti-Aging Skin Care.
Youth is 100% vegan, cruelty free, gluten free, hypoallergenic, dermatologist tested, non-comedogenic, suitable for sensitive skin, free of over 2,500 harmful chemicals and questionable ingredients.
You can purchase Youth products individually or as a complete regimen – and if you have to choose just one to start the Serum is the key!
Youth Anti-Aging Skin Care is 100% money back guaranteed, at any time.
You can use the system for 60 days and return empty bottles if you like. But we don't think you'd ever want to do that!
Check out this video where we learn that you can see results in as little as 7 days, and you will feel a difference right away.
More about

Youth

:
The key product with the most concentration of anti-aging ingredients is the Youth Activating Serum. It has 10x the actives to provide the critical regeneration step.
Youth Activating Serum is a potent blend of vitamins, polyphenols and the unique Youth Complex the supports collagen production and renews at the cellular level, making your skin act younger, look radiant, and rejuvenate.
The ingredients that power Youth Complex are:  Apple Cell, Lotus Japonicus, and Encapsulated Vitamin A.
Hydrate Your Skin
As we mentioned at the start, you may not even realize your skin needs hydration. If you live in a dry climate, you probably do. But we don't and yet our skin was thirsty!
The Youth Advanced Hydration Regimen provides intense hydration and moisture retention. You can buy the system or any of the individual products, AND they are all 100% guaranteed to deliver results.  (All Shaklee products offer this 100% guarantee because they only make products that are clinically proven to WORK – or your money back!)
Shaklee products work at the cellular level – it takes science and the right formulation to reach your cells where you can really get results for your skin.
Hydration is the foundation of healthy, youthful looking skin and to truly hydrate skin, you have to start at the cellular level.
Shaklee's cellular hydration technology is unique to the brand so you aren't going to find it anywhere else. Think of it as a moisture magnet, attracting it to skin's outer layers and allowing it to act as a reservoir locking in hydration, reducing the appearance of fine lines and redness. 
It helps your skin restore its natural hydration system, to rehydrate and revitalize your skin.
Exclusive formula combines powerful botanicals and advanced technology including:
Cactus extract, to help attract and hold moisture in the outer layer and transport it where needed throughout skin cells

A unique blend of 4 forms of hyaluronic acid that can retain up to 1,000 times its weight in water, to trap and retain moisture in skin's deeper layers

100% sustainable plant-based squalane helps build a protective barrier to reduce water loss sealing in hydration for lasting results

100% plant-based lipids, known to help hold moisture in the skin
It also contains key actives from the Youth Complex such as Muscadine Grape, Lotus Japonicus, Schisandra, Vital Repair+ Complex and Apple Cell for additional anti-aging benefits.
WHERE TO START?
So where do you start with a full line of healthy skin care that also happens to be very healthy for your skin?
Get the Youth Personalized Regimen (can add on an individual serum if you want both serums)
Get the Youth AntiAging system to focus on anti-aging results
Get the Youth Hydrating skincare products if you need to focus on hydration 
(Note:  If you choose #1 you will be choosing products from either the AntiAging or Hydrating Regimens, and if you want the benefits of both Serum choices, you can customize your personalized regimen and then add on the other serum separately.  We are mentioning this since we are using both serums – one at night and one during the day. We are really liking the benefits of the Hydrating Serum and we can't give up our AntiAging serum and those 10 years younger we want to look along with the healthy skin care benefits at the cellular level.)
Whatever way you choose, we have the info on HOW TO USE the products and it is VERY EASY and VERY QUICK to use on a daily basis and VERY BENEFICIAL to your skin – you will SEE AND FEEL the results pretty quick!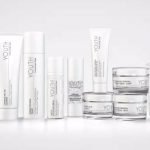 Youth Advanced Skin Care Products can be purchased in packages or individually.
Look Younger Longer
Youth goes beyond addressing aging on the surface to target the cellular level of your skin, helping improve the health of your skin.
How would you like to lose a decade?
AGE INDEX
Shaklee scientists knew that Youth Complex could transform how you see yourself, but can your skin actually become younger?
To help, the Skin Age Index was clinically developed, by world-class skin experts, to measure the appearance of key signs of aging with factual clinical data that includes:  facial wrinkles, skin texture, pore size, hyperpigmentation, even skin tone, radiance, firmness, and sagging.
The Skin Age Index was used to calculate these results:
100% OF WOMEN HAD YOUNGER-LOOKING SKIN
2/3 ACTUALLY SHIFTED THEIR SKIN AGE INTO YOUNGER DECADE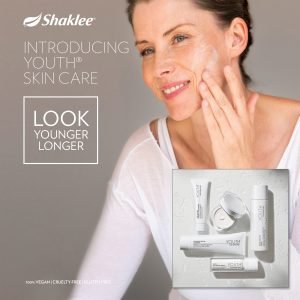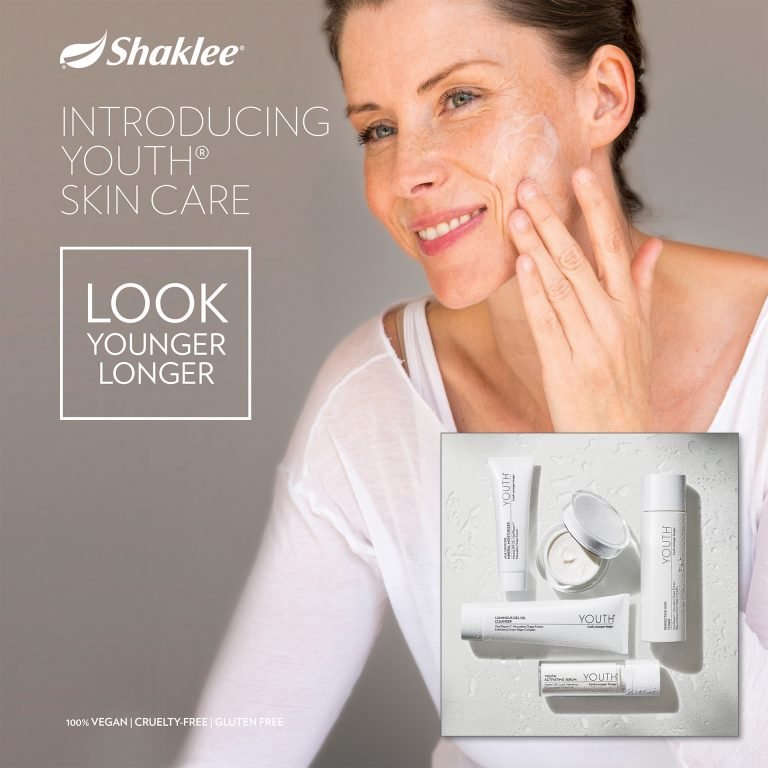 More about the ingredients:
The Power of Botanicals
With eight patents and patents-pending, each YOUTH product is specifically formulated to address the multiple effects of aging.
Lotus Japonicus
Patent-pending Youth Complex, infused with Lotus Japonicus, activates a key youth protein to regenerate cells to produce more collagen and elastin. Youth Complex couples Lotus Japonicus with Schisandra Chinensis Fruit Extract that structurally helps provide more nutrients and energy to the skin.
Muscadine Grape
Patent-pending muscadine grape polyphenol blend, found in each product in the YOUTH collection, protects and repairs cellular DNA in your skin while blocking collagen and elastin breakdown.
Youth AntiAging Skin Care
How to use Youth Advanced Anti-Aging Regimen
4 Simple Steps:
1.  Luminous Gel Oil Cleanser  –  3-in-1, soap-free, pH-balanced cleanser combines a patented blend of vitamins and polyphenols plus exfoliating algae to gently polish, purify, and prepare your skin
2.  Perfecting Skin Toner  –  Free your skin of dull cells and environmental pollutants to show the world a brighter, more radiant you. Go way beyond the basics to exfoliate, hydrate, and nourish with a patented blend of essential vitamins, polyphenols, and botanicals for glowing skin.
3.  Youth Activating Serum  –  this is the GOLD! 10x the actives to provide the critical regeneration step. A potent blend of vitamins, polyphenols, and our Youth Complex supports collagen production and renews at the cellular level, making your skin act younger for superior radiance and rejuvenation
4.  Age Defense Mineral Moisturizer (for day)  –  Protect your skin from far more than just the sun. Natural marine biopolymers protect you from pollution.  Patented antioxidants protect against free radicals. Naturally derived mineral zinc oxide provides chemical-free SPF 30 Broad Spectrum UVA/UVB protection.
Advanced Renewal Night Cream (for night)  –  This targeted night repair cream supports your skin's cell renewal process while you sleep – and is available in 'Rich' and 'Light' formulas.
So it's 5 products and 4 steps – using one moisturizer during the day (with natural zinc SPF) and another for night time.
Optional Product:  60 day supply of Youth Radiance C+E  –  A powerful patented formula of 20% pure vitamin C and vitamin E plus raspberry cell extract to plump, brighten, and visibly reduce the appearance of lines and wrinkles. Add Radiance C+E to the Advanced Anti-Aging Regimen by applying it immediately before the serum.
(order any Youth product and get a Free Shaklee Membership to save 15% off your first and all future orders)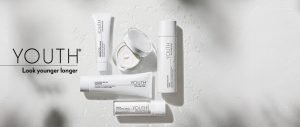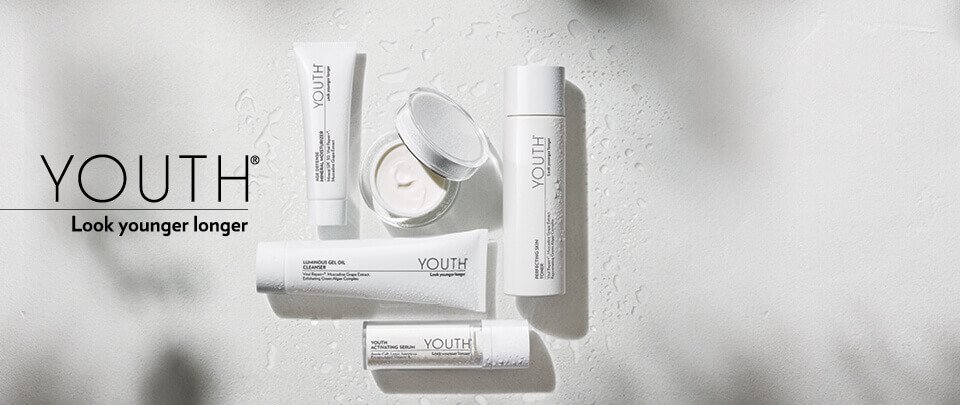 To order your Youth Advanced Anti-Aging Skin Care System today, visit:  YOUTH.
The Benefits of Youth
Dramatically Improve the Health of Your Skin
Guaranteed to Shift Your Skin To a Younger Age
Targets the Cellular Level of Your Skin As Well As the Surface
100% Vegan and Cruelty Free
100 % of Women Were Clinically Proven to Have Younger-Looking Skin
2/3 of Women Shifted Their Skin Into a Younger DECADE
+ all the benefits already listed above
Your Skin:  Younger Looking, Smoother, More Luminous
Youth Advanced Skin Care Products can be purchased in packages or individually.
Help us spread the word to anyone you know who is looking for anti-aging skin care, or the opportunity to lose a decade and – Look Younger Longer.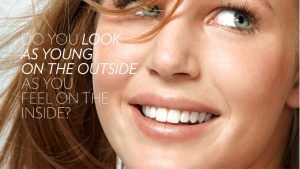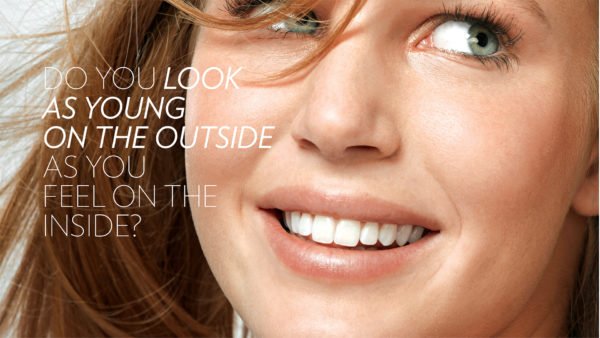 Save