Your body contains trillions of 'friendly' microorganisms that mostly live in your colon where they do a lot to help you maintain good health. One of their most important roles is to balance out the bad bacteria that enters your body.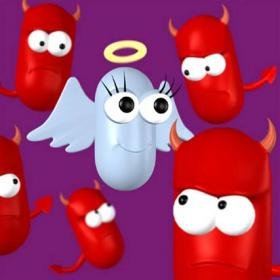 Who might have challenges maintaining enough good bacteria? If you take an antibiotic, it destroys the 'bad stuff' that is making you sick, but the problem is that it kills all bacteria – even the 'good stuff' that your body needs. You have to find a way to get the good bacteria back.
Sometimes your diet choices will upset the balance of your good bacteria. Also, if you do foreign traveling, you could be at risk for imbalance of your good bacteria.
So how do you get healthy microflora levels back in your body?
Normal, healthy colonies of lactobacilli and bifidobacteria can help you maintain a healthy balance of intestinal microflora. There are lactobacilli and bifidobacteria supplements available to take. There may be a problem absorbing these since they need to make it all the way to the colon, which is past your stomach digestion, in order to be most effective.
Unlike other probiotics that may disintegrate prematurely and never reach the lower intestine, the state-of-the-art, triple encapsulated, seamless capsule OPTIFLORA is guaranteed to withstand the acidic environment of the stomach to deliver live beneficial bacteria to the intestine.
Below are testimonies from people who received great results using Optiflora.
Tick Bite, Stomach Pain & Optiflora
Anita D was experiencing extreme stomach pain recently.  She thought it might be from the second round of a very strong antibiotic she had taken because of tick bites.  The pain would wake her up at night and she was getting scared that it might be something very serious.

She decided to try a triple dose of Optiflora one night before bedtime.  That night she slept through the night and the next morning felt much better.  She continued to take a triple dose the next day and a single dose that evening.  She did that for one more day and the pain was totally gone.

Could her pain have been from the antibiotic causing a gross deficiency of friendly bacteria in her intestines and colon?
Beneficial bacteria help defend your body against illnesses and disease, and also help your gastrointestinal system function well.  It's not fun to have digestive problems on an everyday basis.  Sometimes meds work and sometimes they don't.  They can have side effects.  It's worth a talk with your doctor to find out whether natural supplements (that don't have side effects) might be of benefit to you.
Optiflora, BW and Traveling on the Job!
Vickie L had trouble for years when she traveled anywhere.  Any small amount of water from another area would send her to the bathroom in great pain.  She suffered from diarrhea and would have to bring her own water from home.  It got to be time consuming since she only drank water.

She was asked to go on a work trip where she would have to fly and wondered what she would drink since she could not take enough of her own water with her.  She decided to try Optiflora to see if it could help.

For three days before the trip she used Optiflora and took it along with her.  She held her breath after drinking the local water – and nothing happened.  She continues to take Optiflora and can drink water in different areas – thankful to live a more normal life!
Helpful bacteria help boost immune function, can reduce food allergies, and can help prevent certain infections.  There is ongoing research that supports good bacterial may be associated with lowering your cholesterol and helping fight cancer.
Crohn's Disease and Optiflora
Suzanne C has Crohn's Disease, an inflammation on the intestinal wall that can cause her to be very sick at times and gives enough discomfort that she needs to stay at home and rest.  The goal of a Crohn's Disease patient is to try not to let the disease take over his or her life.

Suzanne had several flare-ups after being diagnosed.  She had surgery to remove 12 inches of her small intestine and was symptom free for awhile.  When she started to have pain again she attributed in part to stress and the rest to the disease returning.  When she reported the symptoms to her doctor he said that if it continued he would have to put her back on antibiotics.

She did not want to go back on antibiotics and decided to try Optiflora after a friend told her about it.  Optiflora has been a godsend to Suzanne!  She avoided the antibiotics and was surprised how quickly the Optiflora helped her.  She wishes GI doctors would learn more about it and prescribe it to their patients!
Learn More About Optiflora
Optiflora is a unique, two-product system that:
Provides dietary support for the normal, healthy balance of intestinal microflora
Promotes colon health by supporting the growth of healthy microflora naturally found in the colon.
Delivers guaranteed live probiotics Bifidobacterium longum and Lactobacillus acidophilus, along with the prebiotics FOS and inulin and provides gammatocopherol, a nutrient associated with colon health.
Optiflora Prebiotic Complex
Provides a welcome environment for the friendly, beneficial bacteria that live and work in the colon.
Pleasant tasting powder provides nutrients—including FOS and inulin—that selectively feed friendly bacteria, encouraging their growth and multiplication.
Optiflora Probiotic Complex
A unique capsule transports live beneficial bacteria safely through the acidic conditions of the stomach
Optiflora's triple encapsulation protects the helpful bacteria so they can be delivered live to the intestines
To purchase Optiflora from the #1 Natural Nutrition Company in the United States, visit:  Helpful Bacteria.