We all know that there are many (MANY) weight loss and weight management plans on the market?  And if that's the case, why are so many people still struggling to lose weight?
I believe that we can't simply go on a diet, lose weight, and expect to keep it off.  We need to find a way to integrate weight loss, inch loss, fat loss, and finally weight management into our every day living.
Plus we need a healthy plan.  Enter Cinch.. the program that is proven to work AND helps you get healthier as you shed those pounds!
p.s. 100% money back guaranteed.
Cinch® – Your Defense
Against the Holiday Weight Gain Blues!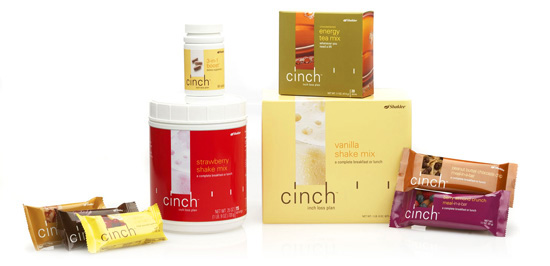 It is hard to eat healthy meals when there are holiday treats everywhere you look. And, guess what? The barrage of cookies, candy, and buffets won't end for another month. Nor will the busy schedules that can make the drive-thru lane of the closest fast food restaurant look like a good choice.
Arm Yourself for the Season with
Cinch!
Cinch delivers a knock-out blow to the temptation of "just a taste" of unhealthy holiday treats. Think of a Cinch shake for breakfast or lunch as your main defense. With 24 grams* of hunger-fighting protein, plus extra leucine so you don't lose muscle, and four delicious flavor choices, Cinch shakes are a great way to help keep your day on track. Chocolate? Vanilla? Strawberry? Café Latte? Take your pick and leave the chips-and-dip behind.
Need even more convenience? Try a Cinch Meal-in-a Bar. Keep one in your purse, gym bag, or just tuck one in your pocket when you head out the door, and you have a super quick, super healthy, breakfast or lunch option. It is even faster than "fast" food, and costs less than most – so no more excuses for eating burgers and fries. No more guilty, bloated feelings from the so-called Value Mega-Meal you just ate. Instead, you get the great taste of a Peanut Butter Chocolate Chip or Berry Almond Crunch Meal-in-a-Bar**, and a bit more change left in your pocket for your holiday shopping.
Round out your arsenal with yummy snack bars and an energizing tea. You will never be bored when you can choose from Peanut Butter Crunch, Chocolate Decadence or Lemon Cranberry bars, and Unsweetened or Pomegranate tea sticks. With snack bars on hand, and a tea stick to add to your water bottle, you won't need candy bars, sodas or rich coffee drinks to get you through a busy afternoon.

Be your happiest,
healthiest you this holiday season, with Cinch!
"The shakes taste incredible, make me feel great and help take away the burden of meal planning." – Robert M
For more inspirational stories, please go to HealthyWeight Loss

*When prepared as directed
**MN price $3.78 per bar
***Results not typical.  In a preliminary clinical study of the Cinch Inch Loss Plan, participants on average lost 15.4 pounds over 12 weeks.