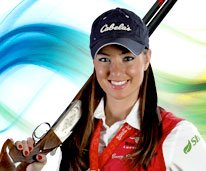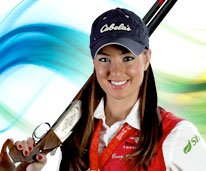 Last week 6000 of us (Shaklee Independent Distributors) entered the Garden Arena at MGM Grand in Las Vegas, Nevada for the opening session of the 2012 Shaklee Global Conference.  We had no idea that a short while later we would have a LIVE feed from London and get to hear from our Shaklee Pure Performance Team Olympic Athletes.
We are proud to support these young men and women in different sports and who won Gold, Silver and Bronze medals at the 2012 Summer Olympic Games. They had stories to tell and are spreading the work about Shaklee All-Natural Nutrition so that other Olympic athletes will benefit in future games.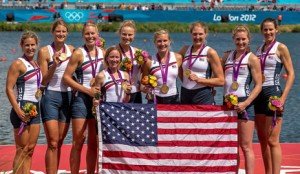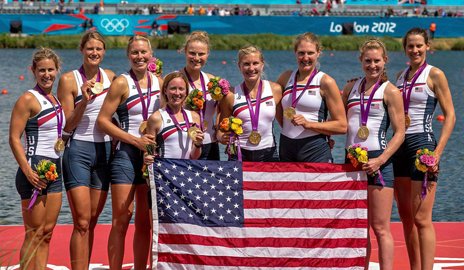 Many Olympic athletes are afraid to use supplements because there is a chance that some ingredient in the supplement would be illegal in terms of Olympic rules and would disqualify them for competition.  What the athletes like so much about Shaklee products is that they can feel safe taking them because they are truly all-natural and have no banned substances.
I can't imagine the level of exercise, workouts, practice and time that is part of an Olympian's daily life. I do believe that their bodies can benefit greatly from nutrition that supports energy, endurance, muscle recovery, and overall great health.
Here's a story about the Olympics that was put together by one of our summer interns on a site called Storify.com. You can use it for personal use and create a story of an event in your life. It's fun and free to use.
Team USA at the 2012 Oympics
A look at Team USA's Olympic success.
Storified by Anti-Aging By Design · Wed, Aug 15 2012 08:50:06
Christianpost
It's only been a week into the Summer Olympics, but already USA has done very well. The current medal count is 37 medals made up of 18 gold, 9 silver, and 10 bronze. Here are just some of the many highlights so far.
CHN and USA now tied for number of gold medals at 18 each but USA leads in total medals at 37. #olympicsOlympics
The US has been dominated swimming with great athletes such as Michael Phelps, Ryan Lochte, and Missy Franklin.
Turner
The Social Olympics: Phelps Makes History; Badminton BrouhahaAll eyes were on the Aquatics Centre, where Olympic legend Michael Phelps became the most decorated Olympian ever by winning his 18th and…
Had some ups and downs this Olympics but bringing 5 Olympic medals back to #USA now time to cheer for #USA #JeahRyan Lochte
Usmagazine
"@cnnbrk: #Olympics Result: USA's Missy Franklin wins 200m backstroke gold, sets world record http://on.cnn.com/N8YGkJ" #USAJordan Goss
Usatoday
The USA Women's Gymnastic's team was also putting up a great fight.
US wins Olympic gold medal in women's team gymnastics, second ever and FIRST since 1996. #OlympicsSportsCenter
Voxxi
Golden Girl Gabby Douglas now among US gymnastics' eliteThat "list" includes Mary Lou Retton, Carly Patteron, and Nastia Liukin – the only three American gymnasts to ever win the women's Ol…
Zap2it
Team USA kept up the good work in many other events too.
Kayla Harrison has just won USA's 1st EVER GOLD MEDAL in Judo! #OLYMPICS @judo_kaylaNBC Sports Network
Clearchannel
London Olympics: US wins women's eight rowing gold"That is an American dynasty, baby," said Francia, the Hungarian-born model who has won two Olympic gold medals and four world …
Startribune
Kim Rhode Wins Olympic Skeet Shooting Gold Medal With Record PerformanceKimberly Rhode of the United States reacts while competing in the Women's Skeet Shooting final on Day 2 of the London 2012 Olympic Ga…
Csmonitor
Vincent Hancock Wins Olympic Skeet Shooting Gold Medal For 2nd Straight …United States of America's Vincent Hancock prepares to shoot during the second day of qualifiers for the men's skeet event at the…
Toledoblade
Here's a recap of the Olympics..
London Olympics wrap up, U.S. finishes on top(CBS News) The 2012 Summer Olympics are over after a spectacular finale in London and two final gold medals for the United States. The U….
And NBC's site.. the official coverage of the 2012 Summer Olympics in London.
2012 Summer Olympics | Video, Schedules, Results, TV | NBC …Jul 27, 2012 … Coverage of the London 2012 Olympic Games from NBCOlympics.com includes live video, highlights, results, schedules, TV…
We are so proud of our Shaklee Pure Performance Team Olympic Athletes:
Team Shaklee Athletes"Good luck. Ski fast. Shoot straight!" Sage words to motivate and inspire a biathlete poised to compete on the world's largest stage-the …
To learn more about Shaklee Sports Nutrition, please visit:
Sports Nutrition(Note: more about individual sports nutrition solutions shown below) ENERGY you need to power through your workouts, the focus to get thr…