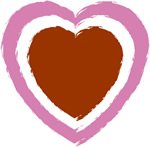 Happy Valentine's Day to all my friends, loyal readers, and first time visitors (please come back!).
Valentine's Day is the traditional day of love where we think about and plan something special that we will do for our special someone. And then there are our mothers, fathers, children, grandparents, a special aunt or uncle, special friends.. the list goes on.. we may want to express our love for more than one person for sure.
For me, Vivix is now associated with a gift of love. First, since 8-8-08 when Vivix was introduced, my husband and I have been taking our teaspoon per day with the goal to keep the diseases of aging far away from us, and have been experiencing some benefits already in the form of weight management, more alert and focused all day, better joint function, great sleep at night, and overall feeling of well-being in what has become for many a very stressful time during this period of economic disaster and uncertainty. We think it makes a perfect Valentine's Day gift to each other to order next month's supply!
I gave a few boxes of Vivix to my parents at Christmas because I want them to stay healthy and to 'be around' for many, many years to come! At 80 and 74, it seemed like a perfect gift to give them to help them with some present health challenges and prevent other diseases of aging like diabetes, cancer and Alzheimer's.
Guess what, for Valentine's Day, another box is going their way! My father is now calling it his 'Fountain of Youth'.. don't we all want a Fountain of Youth* at 80 years of age?
****As a special gift to you.. for taking the time to read my post (thanks very much), I would like to give everyone who orders their own Fountain of Youth* box of VIVIX today, a special gift. I will send you a tube of another unique product from this brand that folks have been using from 'head to toe' for many, many years. It is our special formulation multi-purpose cream and is one of the favorite products of the brand. For relief from all kinds of skin discomforts (truly from head to toe and every place in between), this mentholated cream is absolutely awesome!****
(I will get confirmation of your order from Shaklee and personally mail your gift to you.  It must be ordered on 2-14-09)
*Fountain of Youth in this article is simply a personal testimony and not to be associated with any claims on behalf of myself or the manufacturer.